Excerpt
Excerpt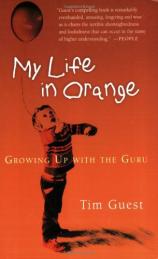 I have photographs of my mother leading a commune parade down Fleet Street. I have photos of me curled up on a commune beanbag reading a commune library book. I have photos of the commune kids running three-legged races on the front lawn; photos of us in maroon body-warmers, tugging each other around on sledges over the frozen waters of the commune lake.
I have brochures, too, designed and printed on the commune printing presses, that list the therapy and meditation groups on offer at the commune. I even have copies of commune videos, made to promote the new lifestyle we were pioneering on the cutting edge of consciousness and out in the middle of the Suffolk countryside. I have another video, made by the BBC, with early footage from the Ashram in India. People saying 'beautiful'; people doing t'ai chi; people naked in padded rooms, hitting each other with fists and pillows. I have copies of the newspapers that were hand-printed in the commune design studios, the photos silk-screened, the headlines hand-applied in Letraset letters. In these newspapers there are interviews with the commune's leading spiritual pioneers, written by other commune residents in the zany language of the time.
I even have some evidence that there was family life before the commune. Photos of me back in 1978, sulking on the steps of our house in Leeds, clutching a Snoopy doll and two stuffed monkeys, just a month before we dyed all our clothes orange.
This evidence has taken me years to gather together. I can look at these artefacts now, and see myself; but in the late 1980s, a teenager living with my mother in North London after the communes had ended, I had no evidence of our history. In a small fire out in our back garden my mother burned her photos, her orange clothes, her mala necklace, with its 108 sandalwood beads and locket with a picture of Bhagwan. Despite my pleas to let me sell it and keep the money, she even burned the bright gold rim she had paid a commune jeweller to fix around her mala locket, in the later, more style-conscious commune years. A week after the fire, I borrowed a pair of pliers, prised the silver rim off my own mala, and threw the beads away.
I had no other evidence of my commune childhood. I had lost touch with the other commune kids. My mother never talked about the commune - or if she did, I refused to reply. We had both stopped using the names Bhagwan had given us. In our cupboards there was no longer a single red or orange item of clothing. Sometimes it seemed the only evidence of the past was in the shape of my body: the tough skin on the soles of my feet, from years of walking barefoot over gravel. The tight tendons in my calf, from a lifetime of standing on tiptoes, looking for my mother in an orange crowd.
Then, in January 1990, when I was fourteen, in the back of the newspaper on my mother's kitchen table I found an article about the commune. I tore it out, folded it, put it in my back pocket. For the next month I carried the clipping everywhere. At school and on buses I would pull it out, read it, fold it, and put it back. I carried that newspaper article until it was too tattered to read; still, I carried it in my back pocket for another two weeks, until finally I left it in the pocket of my jeans and put them in the wash and it was gone.
The article, from The Times, was headlined MINISTER ACTS AFTER INQUEST ON SCHOOLBOY.
A boy was found hanged after a row during a clothes-swapping game with girls at the Ko Hsuan private boarding school, Devon, an inquest was told today.
The school, where some teenage boys and girls share the same bedroom, is organised on communal lines and follows the teachings of the Indian guru Bhagwan Shree Rajneesh.
Nicholas Shultz, aged 13, fell out with a girl he had a crush on because she would not let him wear her clothes. About half an hour later Nicholas was found hanging from a rope swing in the grounds.
I was convinced I knew that swing and the tree it hung from, a great spindly oak in the forest out near the commune boundaries - but I also knew I was mistaken. The commune I remembered had already closed. But this school, Ko Hsuan in Devon, was a continuation of my commune. I knew the teacher, Sharna, who told The Times that thirteen-year-old boys and girls shared bedrooms because 'the kids were mature and totally trustworthy'. I knew some of the Ko Hsuan kids from my own years in those mixed dormitories. I also knew the loneliness of that boy, whose sorrow did not quite fit into the commune's decade-long dream of laughter and of celebration. I could feel that same, familiar sorrow, deep in my chest like an old bruise, but I had no idea of the origins of my sadness. When I read the clipping I remembered there was a reason why I was this way: isolated, strange, shabby, and alone.
I carried that clipping around with me because I finally had one single piece of concrete evidence: at last, something outside of me existed to confirm it had all taken place. I treasured the clipping because it was a single piece of ballast: something to hold me to the ground, to make my history real. I carried that article around because I knew the boy hanging from the swing could have been me.
Excerpted from My Life in Orange © Copyright 2004 by Tim Guest. Reprinted with permission by Harcourt Trade Publishers. All rights reserved.
My Life in Orange: Growing Up with the Guru
by by Tim Guest
paperback: 320 pages
Publisher: Mariner Books
ISBN-10: 015603106X
ISBN-13: 9780156031066