About the Book
About the Book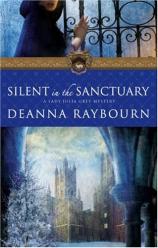 In Deanna Raybourn's second Victorian mystery, fresh from a six-month sojourn in Italy, Lady Julia Gray and her colorful brothers are summoned home to Sussex by their insistent father. They arrive at his estate to find the deconsecrated abbey crowded with family and friends. But dark deeds are afoot, for a murderer roams the ancient cloisters.
Much to Lady Julia's surprise, the one man she had hoped to forget --- the enigmatic and compelling Nicholas Brisbane --- is among her father's houseguests . . . and he is not alone. Not to be outdone, Julia shows him that two can play at flirtation and promptly introduces him to her beloved, younger, titled Italian count.
But the homecoming celebrations quickly take a ghastly turn when one of the guests is found brutally murdered in the chapel, and a member of Lady Julia's own family confesses to the crime. Certain of her cousin's innocence, Lady Julia resumes her unlikely and deliciously intriguing partnership with Nicholas Brisbane, setting out to unravel a tangle of deceit before the killer can strike again. When a sudden snowstorm blankets the abbey like a shroud, it falls to Lady Julia and Nicholas Brisbane to answer the shriek of murder most foul.
Silent in the Sanctuary is a January 2008 Book Sense selection.