About the Book
About the Book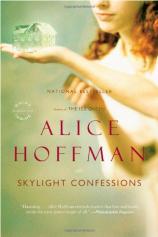 On the night her father dies, Arlyn is certain that the man she is meant to be with will walk into her life. But fate seems to be playing a trick when John Moody knocks on her door to ask for directions. Cool, practical, and deliberate, John is dreamy Arlyn's polar opposite. Yet the two are drawn powerfully together even when it is clear they are bound to bring each other grief. Their marriage is dangerous territory, tracing a map no one should follow. It leads them and their children to a house made of glass in the Connecticut countryside, to the rooftops and avenues of Manhattan, and to the blue waters of Long Island Sound, all in a search for family and identity.
Walking this path of ruin and redemption are Sam, their son, a brilliant, explosive artist who is drawn to self-destruction and dreams; Blanca, the beautiful loner who tries desperately to protect her brother from his destiny and lives her own life in a world of books; and Will, the grandson, who is left a legacy of broken pieces he needs to put together, an emotional and mysterious puzzle made up of people who don't know the first thing about love.
Here is a family so real, so tragic, so devoted, it is as if they have written their own riveting history --- a quest for love and truth. Glass breaks, love hurts, and families make their own rules. No one who reads this book will ever forget it or look at their own family in quite the same way. Skylight Confessions is a luminous and elegant work of true originality.
Skylight Confessions
by Alice Hoffman
Publication Date: February 11, 2008
Genres: Fiction
Paperback: 288 pages
Publisher: Back Bay Books
ISBN-10: 0316017876
ISBN-13: 9780316017879