About the Book
About the Book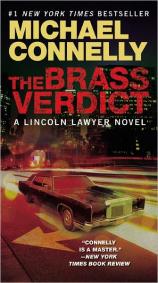 Things are finally looking up for defense attorney Mickey Haller. After two years of wrong turns, Haller is back in the courtroom. When Hollywood lawyer Jerry Vincent is murdered, Haller inherits his biggest case yet: the defense of Walter Elliott, a prominent studio executive accused of murdering his wife and her lover. But as Haller prepares for the case that could launch him into the big time, he learns that Vincent's killer may be coming for him next.
Enter Harry Bosch. Determined to find Vincent's killer, he is not opposed to using Haller as bait. But as danger mounts and the stakes rise, these two loners realize their only choice is to work together.
Bringing together Michael Connelly's two most popular characters, The Brass Verdict is sure to be his biggest book yet.
The Brass Verdict: A Lincoln Lawyer Novel
by Michael Connelly
Publication Date: September 1, 2009
Genres: Mystery
Mass Market Paperback: 592 pages
Publisher: Grand Central Publishing
ISBN-10: 0446401196
ISBN-13: 9780446401197