About the Book
About the Book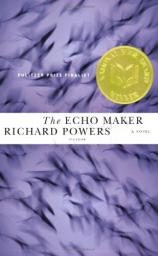 Published to wide critical acclaim and winner of the National Book Award, Richard Powers's The Echo Maker tells the haunting story of twenty-seven-year-old Mark Schluter, who survives a nearly fatal car accident only to face a devastating new perception of the world. Coping with the consequences of traumatic brain injury, Mark lives with a blend of paranoid obsessions, including the belief that his caregiving sister, Karin, is an imposter who merely looks, acts, and sounds just like his sister. Desperate for a treatment to end these strange, maddening symptoms, Karin enlists the help of internationally renowned cognitive neurologist Gerald Weber, known for studying some of the world's most bizarre brain disorders. What Gerald uncovers in the prickly terrain of Mark's mind begins to undermine even his own sense of self. Searching for answers to a question that bridges medicine and memory, both Gerald and Mark sift through shards of the past, while the true answers lie on the lonely Nebraska road where Mark's truck mysteriously crashed during that tragic winter night.
A searing novel that probes the boundaries of trust between friends and lovers, healers and patients, siblings and parents, The Echo Maker gives us an inventive new glimpse of the mind's powerful eye.
The questions that follow are designed to enhance your experience of The Echo Maker. We hope they will enrich your book group's reading of this stirring masterwork.
The Echo Maker: A Novel
by Richard Powers
Publication Date: August 21, 2007
Paperback: 451 pages
Publisher: Picador
ISBN-10: 0312426437
ISBN-13: 9780312426439