About the Book
About the Book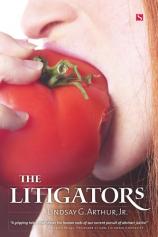 A THRILLING NOVEL OF A COURTROOM DAVID & GOLIATH STRUGGLE
Stories of David and Goliath struggles in the courts are not new in legal thrillers; but in this story, figuring out just who is Goliath opens the reader to a discovery of unexpected truths about today's highly litigious court system. Good versus evil, yes, but just what is the evil that is supposed to be vanquished?
A woman living near a toxic waste site that was treated with a new process using genetically engineered microbes develops a mysterious neurological illness. By chance, she meets a passionate young lawyer at a neighborhood church supper. He feels obligated to find justice for his new struggling client and in the process takes on the largest law firm in Minnesota. How far will Dillon Love go for his client if the end result of his lawsuit is to destroy the brilliant university professor who has dedicated his entire life to improving the environment? How far will Henry Holten go to defeat the graceful woman whose family and financial future is dependent upon the success of her court case? The Litigators is a riveting page-turner, which asks if there can be any justice for either party without infliction of a great injustice on the other. This winner-take-all legal battle brings together three tenacious lawyers and their highly worthy clients in a way that forever changes the lives of all.
The Litigators
by Lindsay G. Arthur, Jr.
Publication Date: June 30, 2005
Genres: Fiction
Paperback: 296 pages
Publisher: Scarletta Press
ISBN-10: 0976520109
ISBN-13: 9780976520108