About the Book
About the Book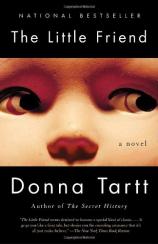 Harriet Cleve Dufresnes was only six months old when her nine-year-old brother, Robin, was found hanging from the black-tupelo tree in the family's backyard. Twelve years later, the still-unexplained tragedy holds the Cleve-Dufresnes clan in an inescapable grip. Overcome by guilt and grief, Harriet's mother, Charlotte, has drifted into numbness, indifferent to keeping up appearances and uninterested in her daughters—Allison, a fragile, dreamy sixteen-year-old, and the sturdy, smart seventh-grader Harriet. Dixon Dufresnes, always a disengaged husband and father, has moved from the family's home in Alexandria, Mississippi, to begin a new job and a flashy new social life in Nashville. Harriet's grandmother, Edie Cleve, and three great aunts bring a well-intentioned, if eccentric, structure and gentility to Harriet's life, and Ida Rhew, the family's housekeeper, cares for Harriet and Allison with unstinting, unacknowledged devotion.
Harriet spends her time poring over family pictures for glimpses of the fabled happy times before Robin's death, reading adventure stories and grisly accounts of real-life ill-fated adventurers and doomed civilizations, and devising daring excursions with her awed and admiring best friend, Hely. When the two decide to solve the mystery of Robin's death, their plan—a pastiche of Harriet's book-fed fantasies and misinterpreted family lore—leads them into the bizarre, dangerous world of Danny Ratliff, a childhood acquaintance of Robin's and now Harriet's prime suspect.
Donna Tartt brilliantly captures the tangle of loneliness, arrogance, inquisitiveness, and stubborn certainty that propels Harriet's quest for justice and her determination to free her family—and herself—from haunting memories and self-inflicted wounds. In telling the story of Harriet's coming of age, Tartt presents a heroine whose resourcefulness and intelligence expose her to the contradictions and paradoxes of the adult world and bring her face to face with the complexities of her own needs and desires.
The Little Friend
by Donna Tartt
Publication Date: October 28, 2003
Genres: Fiction
Paperback: 640 pages
Publisher: Vintage
ISBN-10: 1400031699
ISBN-13: 9781400031696