About the Book
About the Book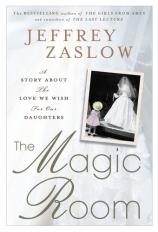 The New York Times bestselling journalist and author of The Girls from Ames, Jeffrey Zaslow, takes us to a multi-generational family owned small-town bridal shop to explore the emotional lives of women in the 21st century.
You may not have heard of Fowler, Michigan, much less Becker's Bridal. But for the thousands of women who have stepped inside, Becker's is the site of some of the most important moments of their lives-moments that speak to us all. Housed in a former bank, the boutique owners transformed the vault into a "magic room," with soft church lighting, a circular pedestal, and mirrors that make lifelong dreams come true.
Illuminating the poignant aspects of a woman's journey to the altar, The Magic Room tells the stories of memorable women on the brink of commitment. Run by the same family for years, Becker's has witnessed transformations in how America views the institution of marriage; some of the shop's clientele are becoming stepmothers, or starting married life for a second time. In The Girls from Ames, beloved author Jeffrey Zaslow used friendships to explore the emotional lives of women. In The Magic Room, he turns his perceptive eye to weddings and weaves together secrets, memories and family tales to explore the hopes and dreams we have for our daughters.
An Introduction to The Magic Room: A Story About the Love We Wish for Our Daughters, by Jeffrey Zaslow
In 1934, Eva Becker sold her first wedding dress to her first bride. It was "a highnecked, pure white satin number with leg-o'-mutton sleeves" (p. 37). A fiercely unsentimental German Catholic housewife-turned-businesswoman, Eva would go on to sell tens of thousands more dresses, outfitting women throughout the region on one of the most important days of their lives.
More than seventy years later, Becker's Bridal --- now run by Eva's granddaughter, Shelley Becker Mueller --- is still doing business in small-town Fowler, Michigan. The divorced mother of three, Shelley bought the business from her parents, Clark and Sharon Becker, who, in turn, bought it from Clark's parents, Eva and Frank. Each generation put its own imprint on Becker's, but it was Shelley who created the Magic Room.
Housed in a former bank, the store's old vault lay cluttered with racks and dresses until Shelley transformed it into the ultimate staging area: a quiet, softly lit dressing room away from the chatter of the sales floor. "You want mirrors everywhere, taking every bride into infinity…. [because] remember, it's still very much the 'money room'" (p. 191).
And for Shelley, clinching the sale has become more critical than ever. Whereas during Eva's reign, a woman might try on two or three dresses before making her selection, now, "the search for the gown has become a weeks-long quest" (p. 54) involving multiple stores, a gaggle of friends, and sometimes ending with the bride buying her gown on the Internet for less money.
Everything about the wedding --- especially the brides --- has changed dramatically over the years. "About a third of brides today are divorced, buying a dress for a second or third wedding" (p. 19), while "25 percent of first-time brides already have children" (p. 23). Yet, each bride-to-be still arrives at Becker's with a heart full of fears and hopes about life after her walk up the aisle.
Today, there is no such thing as a "typical" bride. Women like thirty-nine-year old Meredith Maitner are embarking on first-time marriages later in life after successful careers trumped lackluster romances. Others, like Ashley Brandenburg, meet their future husbands on the Internet, or, like Jennifer Otto, wed after having a child with someone besides the bridegroom.
"On any given weekend, an average of fifty-four Becker's brides find their way down the aisles" (p. 257), and while many of those marriages won't last, several relationships have already overcome challenging obstacles. Megan Pardo lost part of her fingers on her right hand in a car accident shortly after buying her dress at Becker's.
While Julie Wieber, a young widow, is remarrying against the wishes of her four children. These women and many others visit the Magic Room in Jeffrey Zaslow's deeply moving, eponymous book. By sharing each bride's unique story and that of Becker's Bridal itself, Zaslow offers an unforgettable glimpse into the lives of some very real modern women and --- like the Magic Room's seemingly infinite mirrors --- reflects the enduring hopes, dreams, and love that we cherish for them.
The Magic Room: A Story About the Love We Wish for Our Daughters
by Jeffrey Zaslow
Publication Date: December 27, 2011
Genres: Marriage, Nonfiction
Hardcover: 304 pages
Publisher: Gotham
ISBN-10: 1592406610
ISBN-13: 9781592406616