Excerpt
Excerpt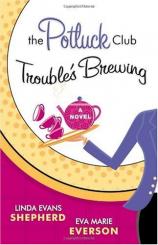 Clay Whitefield burrowed under the musky blankets, eking out an attempt at a few minutes more sleep before heaving himself out of bed. The weight from the quilt his grandmother had handmade upon his arrival into the world lay over him like the history of her people, the Cheyenne. But his grandmother and her people were the last thing on his mind.
Outside the window of his second-story flat, the town of Summit View, Colorado, was coming to life. With or without him. His boss, the editor and publisher of the Gold Rush News, was most likely sitting at his desk by now, wondering what time Clay would amble in. Shifts were changing at the hospital and down at the sheriff's department. Children were preparing for school. Sally Madison, owner of Higher Grounds Café, had already unlocked the doors to her establishment. Larry, her cook, had slapped a heap of lard onto the flat grill, readying it for the morning specials. One of Sally's girls had started the coffee. The very thought of it brewing interrupted Clay's dreams, and his nose twitched.
He opened one eye. Across the room on a scarred table, his gerbils, Woodward and Bernstein, lay wrapped around each other as though they were one. Nearby, his laptop sat at attention, the screen saver banner sliding across its face, teasing him.
clay whitefield, it said. ace reporter.
He'd worked last night until the early hours of the morning; thus his attempt at sleeping in. The big story of his career had kept him up, driving him toward a completion he feared would never come. This story --- this single story --- had tickled his imagination when he was a child, encouraged him to do well when he'd gone off to the University of Northern Colorado to study journalism, and had propelled him back to his hometown upon graduation.
It was the story of a group of women who called themselves the Potluck Club. But it was more than their monthly gatherings that kept his fingers to the keyboard and his pen and notebook in an ever-ready position. It was their past secrets and current escapades.
It was, most particularly, their youngest member.
Because Clay Whitefield believed, with everything his journalistic heart had in it, that Donna Vesey was carrying the deepest secret of them all.
Excerpted from THE POTLUCK CLUB: Trouble's Brewing © Copyright 2012 by Eva Marie Everson and Linda Evans Shepherd. Reprinted with permission by Revell Books, an imprint of Baker Publishing. All rights reserved.