About the Book
About the Book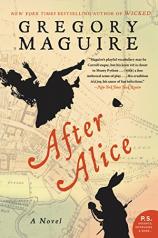 From the multi-million-copy bestselling author of WICKED comes a magical new twist on ALICE'S ADVENTURES IN WONDERLAND, published to coincide with the 150th anniversary of Lewis's Carroll's beloved classic.
When Alice toppled down the rabbit-hole 150 years ago, she found a Wonderland as rife with inconsistent rules and abrasive egos as the world she left behind. But what of that world? How did 1860s Oxford react to Alice's disappearance?
In this brilliant work of fiction, Gregory Maguire turns his dazzling imagination to the question of underworlds, undergrounds, underpinnings --- and understandings old and new, offering an inventive spin on Carroll's enduring tale. Ada, a friend of Alice's mentioned briefly in ALICE'S ADVENTURES IN WONDERLAND, is off to visit her friend, but arrives a moment too late --- and tumbles down the rabbit-hole herself.