About the Book
About the Book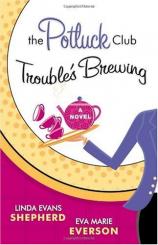 More dining, dishing, and deep, dark secrets.
Every month, six very different women meet and eat in the Potluck Club. But juicy secrets are what really add spice to their lives. And this time around, there are plenty of secrets on the menu.
With troubles boiling over, an unhappy homecoming, one suitor too many, new dos, and new outlooks on life, everyone's in a stew! Will the Potluck Club serve up solutions, support, and spiritual guidance, or will all these cooks spoil the broth?