A few months ago my mom told me about a trilogy of books that she and her friends were reading that they could not stop talking about. She went on and on about the books, talking about the sweeping stories with endless details and the writer who wove intricate plots that twisted and turned. She told me that a number of people were reading them --- and they ALL loved them. They were not new books but rather had been published a while ago. Since on
Bookreporter.com
and
ReadingGroupGuides.com
we typically review and talk about recently published books --- I confess that I half listened and took no notes.
It's a bad move to half-listen to your mother!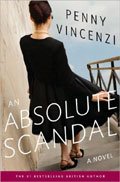 So in June I picked up two books by Penny Vincenzi ---
Sheer Abandon
and
An Absolute Scandal
after reading about them on ReadingGroupGuides.com and loved them. I told my mom how much I liked them with their complex plots and how Vincenzi left the different storylines hanging and then wove them together. She said...THAT is the author I was telling you about --- who wrote the trilogy we all loved so much. So I opened
An Absolute Scandal
and asked her if
Something Dangerous
,
No Angel
and
Into Temptation
, know as the Lytton Family Trilogy, were the books she had been talking about. She said YES.
I handed her my copy of
Sheer Abandon
, which I had finished, and promised her a copy of
An Absolute Scandal
, which was the least I could do after not following her advice.
After I finished the books I went through the discussion questions to see what they prompted me to think about. I like doing this even if I am not going to be discussing a book since often the questions will get me thinking about details I missed. I looked at the last question on the discussion guide for
An Absolute Scandal
and wanted to talk about it. "What themes of attraction, power, and fate are woven into this and previous novels by Penny Vincenzi? In what ways does her storytelling turn real-life scenarios into thrilling out-of-this world escapades?" The latter question was one I was pondering.
Maybe my mom and I can have our own private mother-daughter book club once she finishes the books!
Vincenzi is a real star --- one not to be missed.
An Absolute Scandal
is our Beach Bag title on Bookreporter.com this week (July 11th through July 17th) so if you are interested in winning this book --- and a beach bag themed around it --- you can click
here
to enter.
By the way, while I had heard of Lloyd's of London, I was not aware of the scandal, which was a big story in the '90s. Vincenzi captured not only the horrific details of this event but also the sweeping and devastating effects on those who had been affected by it. Brilliant reading.