When Susan Clark moved to Ellicott City, Maryland, several years ago, she found camaraderie in this new place by starting a reading group. Here Susan shares how she and the other members of the Centennial Book Club came to bond over books and some of the things she has learned along the way.
In January of 2004, my family and I relocated to a new community in a new state. It was difficult leaving my friends behind. It took awhile to get settled. I began working as a substitute teacher again to be home in the summertime for my son. As a substitute teacher, it was extremely difficult to make friends teaching at a different school every day. It wasn't until the fall of 2004 that I began to get antsy for having friends back in my life. It's one thing to call and talk to a friend by phone, but it is another thing to actually spend time together and hear how things are going in each other's lives. Friendships between women can be very strong and lasting. I wanted that for myself again.
I thought of different ways that I could acquire some new friends. I asked myself, "What do I like to do?" --- hobbies, crafts, and activities that I like to do both in and outside. Then a light bulb went off in my head as I thought, "Mmm.... I love to read. I'll join a book club!" It would meet my needs both socially and intellectually, and it could be fun! After trying to find one without any success, I decided to start one in my own neighborhood and see what kind of response I received.
Before I began searching for other members, I had to really think a lot about the kind of book club I wanted to be involved with. I wanted members who wanted basically the same things in a book club as I did. So, I wrote out my questions --- what kind of books do I want to read, would I want a certain age group of women in the club and did that matter, how often would I want to get together and where would I want our group to meet.
Next, I created a flyer with an attention-getting header: "DO YOU LOVE TO READ?" On the flyer I simply stated that I was new to the area, looking to make some new friends and wanted to start a fiction book club for women. I asked if interested, to please contact me via e-mail by a certain date and that we'd work out the details of what we all would want for a book club at our first get-together.
In mid-October on a very cold and windy day, my son and I walked the neighborhood and passed out 200 flyers, attaching them to the flags of mailboxes. And then....I waited. Out of 200 flyers, I received four responses from women in the neighborhood over the next few weeks. "That's great," I said to myself.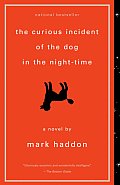 Our first meeting was held the third Wednesday of November in 2004. Those four women came and one of them brought a friend, so there were six of us total. At this meeting we worked out all the details of when and where we would meet, what the hostess would do for food/drinks and who would lead our discussion. We also decided on how we would select books to read. Our first official book club meeting was held in December of 2004. We discussed
The Curious Incident of the Dog in the Nighttime
by Mark Hayden.
As time passed, some people dropped out, and by the following spring we were down to only three members. I did not get discouraged but remained hopeful that the club would turn around. By the end of summer it picked up again. More people joined by word of mouth, and now we are an established group of seven members.
Do not be discouraged when starting a group. You may only get three or four responses from 200 flyers, or people may drop out for various reasons, but eventually you will establish yourselves as a group! The women of the Centennial Book Club all look forward to getting together every month. Not only is it a night out for all of us, but we get to reconnect with each other and catch up on one another's lives after not seeing each other all month long. There is always a lot of laughter, wine, food and, of course, great conversation about that month's book. Are we always in agreement on the books we read and discuss? Of course not! But that's what makes it so interesting and fun.
Nearly four years have passed since I extended myself out into my neighborhood seeking friendship --- and I certainly lucked out by going the extra mile. I really am thankful that I enjoy reading so much, because by having this hobby my life is now complete. I am in good health, have a great family, a good job and now six wonderful women who I honestly can say mean a lot to me. What more could a person want in life?
---Susan M. Clark