I love Netflix, but I have found something I wish they had --- a "Books into Movies" section. Seriously. I just went looking for that on their site, and it was not there. With a very nasty rainy weekend predicted around here, I wanted to find titles that I would suggest books clubs read/watch. But my plans were foiled when I could not find any grouping like that. Moments like that always surprise me when I am SURE something is going to be there and then it is not.We have a
Books Into Movies
section on Bookreporter.com, and we even added a Books Into Movies Now on DVDs section (yes that is a mouthful) recently, but I thought I could suggest even more titles by checking out Netflix.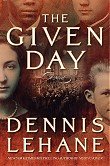 What's in my personal Books Into Movies queue? Well, Wednesday night I saw
Dennis Lehane
speaking about his new book,
The Given Day
. Comparisons were made to E. L. Doctorow's novel
Ragtime
, as they are set in the same period. I thought I might rent the movie version of
Ragtime
and watch it as I read Lehane's book so I would be immersed in the time period. Also, his book
Gone Baby Gone
was made into a movie, and I would like to see that since his series with Patrick Kenzie and Angela Gennaro was one I really loved.
Sunday I am moderating an author panel where
Harlan Coben
is one of the guests, and I wanted to see the film adapted from his book
Tell No One
. It's French, with subtitles. What do subtitles mean? No watching the movie while you answer e-mail, especially if you took Spanish in high school!
I have
Atonement
here at the house, which just arrived from Netflix. I caught half of this film on my way back from London in April. I was wishing we would have to circle til I finished it, but there was no such luck. I also may venture out to a theatre to see
Nights in Rodanthe
since a rainy weekend could be a perfect time to get all girl schmaltzy over a Nicholas Sparks Book Into Movie moment.
What are movies you have loved to read/watch? And think we should petition Netflix for a Books Into Movies rental category? Wonder if Redbox or Blockbuster have them...off to check THAT out...
---Carol Fitzgerald