Yesterday we shared Camilla Morton's advice on how to start a book club. Today the author of
A Year in High Heels: The Girl's Guide to Everything from Jane Austen to the A-list
talks about getting prepared, including making the all-important first book selection and having a fun inaugural gathering.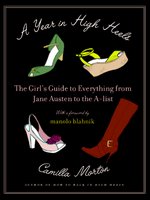 THE BEGINNING
For your first book club meeting come with a list of, say, five books you have loved and read, and a list of three you are dying to read. This will help establish what you enjoy and what you all have in common. See what everyone else suggests, and if there are groans or anguished looks over a suggested favorite title, consider if (a) this is the book you want to slog through or (b) this is the right mix of members for the group.
You can get an idea of how a book club works in the novel
The Jane Austen Book Club
by Karen Joy Fowler. Perhaps this should be set as the first book.
This club is founded by Jocelyn in Sacramento Valley, California, a thousand miles away from Austen's original setting but where her novels are discussed by a potpourri of new characters. The book weaves the modern-day lives of the club members together with Austen's work. Each month is dedicated to a different Austen work, and each month another character reveals a chink in his or her armor. It's the perfect mix of how to set up a book club, what the meetings will be like, and what to discuss, with a topical sprinkling of Austen.
Before you back out, don't fret, there doesn't need to be as much self-discovery or revelation in your group as there is in Fowler's, nor does the club have to be limited to only one author. The only unbreakable rules are that meetings have to be regular and anyone attending has to have read the book.
When deciding on a book for your club you could always start with diaries, such as
Bridget Jones's Diary
or "blooks," like
Belle de Jour
, the diary of a London call girl. However noble it is to propose Samuel Pepys' diary, you will find your members falling at the first hurdle. Break in gently to the RRR (Regular Reading Regimen).
Why not suggest you start the year with a book that is set in London? Or find out if there's a novel set in your hometown. Pick a theme for each month and suggest selecting titles around this. Ideally you choose a book that all the group will be reading for the first time.
Once the title has been agreed on, set a deadline --- say a month --- when you will all come back and dissect it, just as you would a date, a bad day in the office, or indeed one of your favorite soaps.
THE EVENING ITSELF
As well as the book there is the social element of bringing like-minded literary bods together. If you are hosting the discussion evening why not take elements from the book and theme it? For
The Jane Austen Book Club
, for instance, what elements of "Ye Olde Austen England" could you bring to the evening? Would Earl Grey in the bone china tea service with delicate cucumber sandwiches suit the novel, or would a sofa in Starbucks, in acknowledgment of the American element, be more appropriate? It's up to you how you give the book the setting it deserves. But be original and bring the book to life. Make the hosting as much of a challenge as the discussion; that way people will definitely be more inclined to turn up and try and outshine you when it's their turn.
---Camilla Morton,
A Year in High Heels