Today, the official start of the holiday shopping season, North Carolina bookseller Jamie Layton talks about books as gifts, supporting local businesses, and a new book club --- with a twist --- she's launching in January 2009. Read on, because no matter where you live you can be a part of it.
Happy Thanksgiving to all RGG.com readers! I hope every one of you had as joyful a day as I did! Well, here we are --- Black Friday. Typically the biggest shopping day of the year, but will it prove to be so in this tumultuous economic time? I know everyone --- retailers, consumers, Washington --- is holding their breath, watching and waiting.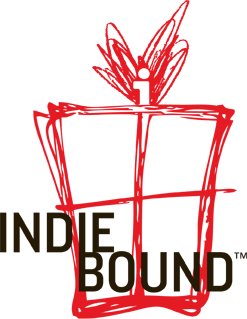 Whether you're going shopping today, have already been out to the early bird sales or are saving your excursions for the weeks ahead, keep in mind that books make great gifts --- for everybody! For children and grandchildren, parents and grandparents, husbands, mothers, fathers, wives, friends and lovers. No matter the recipient, there is a book out there for them. One of the new IndieBound slogans says it perfectly: "A book. The perfect gift for someone with everything. The perfect gift for someone with nothing." (
IndieBound
is the new marketing initiative of the American Booksellers Association that has come onto the scene with some strong messages about shopping at independent bookstores and other businesses.)
In these unpredictable times, booksellers are turning to lots of different avenues to try and maintain our market share and compete with the allure of the chain stores. My bookstore is in a resort area so I only see many of my customers once a year during their Outer Banks vacation. Sure, we have a website and a monthly e-mail newsletter, but it's hard to find ways to stay in front of them the other 51 weeks a year. So with the holidays in mind, I've started a new book club at
Duck's Cottage
. Its members will probably never meet and they'll never know what they're reading next, but so far it has generated a lot of interest. It's called Jamie's Book Club and is a subscription type book-of-the-month club albeit on a bi-monthly basis.
Members will receive a book on or about the first of every other month, beginning in January 2009, that I have hand selected for what I think is either its wide-ranging appeal, lack of deserved media attention or because it's something worth reading that most people
wouldn't pick up on their own. I'm trying to stick to paperbacks so I can keep the cost of each book under $20 (shipping via media mail will have nominal fees). Members will also get our standard 20% discount off each selection. Once things get going in January, I'm going to turn my attention to creating a blog which club members can use to discuss the book among themselves, comment on the selection, etc. --- sort of a "cyber" book club. Interested? Keep reading.
Here's a Christmas idea for your book club from our in-house reading group at Duck's Cottage: incorporate a book swap with your holiday meeting. Last year I asked each member of our group to choose a book, new or used, that meant something special to them. They wrapped it, brought it to our discussion and we placed them all on a table. We took turns describing our individual books, without giving away the title or author, and shared the reason or story behind why we had chosen it for the swap. For some it was their favorite book EVER, for others it was a book they heard about on NPR and really connected with. I took an extra copy I had of Anne Morrow Lindbergh's
Gift from the Sea
. I read this timeless message about being a strong, independent woman over and over during my divorce. (In fact, it still had my married name written inside so technically it was a collector's item!) After everyone had finished, we drew numbers and, beginning with number one, each chose a book from the pile whose story had intrigued us. Amazingly, everyone got the book they wanted. ( I went home with John Berendt's
City of Falling Angels
, which
I had been dying to read.) It was a really special meeting, and everyone begged me to do it again this year. I hope your group will try it!
Have a wonderful holiday season, nurture your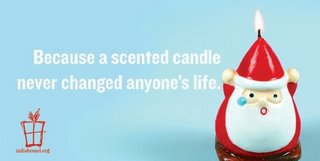 community --- shop Indie --- and when debating between a book and any other item you're thinking about gifting this year, consider this IndieBound ad: "Why a book? Because a scented candle never changed anyone's life."
Oh, and if you want great books, hand-picked by an independent bookseller, delivered to your door with no membership fee and a 20% discount, join Jamie's Book Club at
DucksCottage.com
.
---Jamie Layton
.