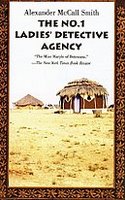 Alexander McCall Smith's Botswana-set mystery
The No. 1 Ladies' Detective Agency
is one of the guides on the RGG.com list of "Ongoing Favorites" for 2008. We'll be unveiling that list along with two others next week.
McCall Smith undertook an ambitious venture last fall: he's writing a serial novel for the
Daily Telegraph
website with a new chapter appearing each weekday and concluding in February. The story takes place in a fictional apartment building in London and details the lives of the people who live there. McCall Smith's UK publisher reported that the author has said "the experience makes him feel like a 'man on a tight rope.'" Fans have likened him to 19th-century scribe Charles Dickens, whose novels were serialized in newspapers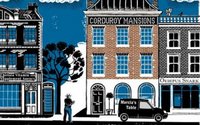 and journals.
Each chapter of
Corduroy Mansions
can be read online or listened to as a podcast. There are profiles of the various characters on the site (including vegetarian dog Freddie de la Hay), and there is also a
Corduroy Mansions Facebook page
. Now what would Dickens make of that?