Lists, lists, lists. In a recent ReadingGroupGuides.com survey (results coming soon), book club members indicated they like lists of recommended reading selections. In
The Pulpwood Queens' Tiara-Wearing, Book-Sharing Guide to Life
, RGG.com blog contributor Kathy L. Patrick has lots of them, including summer reading suggestions. It's also the story of how books changed her life. Kathy tells us more about it in today's post, along with news from the Pulpwood Queens Book Clubs.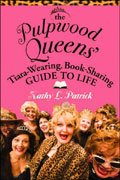 Dear Readers,
For some reason in this throw away and discard society, someone made up this unsaid rule that books have a six week shelf life. My new motto for this year is "Who Made Up that Rule!" A good book is a good book regardless of time. Lord, hold me down if someone told me that
To Kill a Mockingbird
would only have a six-week shelf life after publication. Things could get really, really ugly. Those are fighting words.
Of course, I am exaggerating, but WHO DID MAKE UP THAT RULE that books are only to be publicized for six weeks then it's on to the new "flavor of the day"? You can imagine my utter surprise and delight,then, after getting this Google Alert yesterday:
Pittsburg Morning Sun - Pittsburg, KS, USA
Pittsburg Public Library will have its monthly book discussion at 6:30 p.m. This month's book is
The Pulpwood Queens' Tiara-Wearing, Book-Sharing Guide to Life
Good grief, a news story on a library reading my book after it had been out over a year. Hallelujah! This is cause for celebration. But this got me to thinking, which is really scary. What if, what if, a good book was a good book to read forever.
In fact, I believe that last statement so much that I published all my Pulpwood Queens Book Club Selections from inception until pub date in my book,
The Pulpwood Queens' Tiara-Wearing, Book-Sharing Guide to Life
. In fact, it would make a great summer read as it's my story on how books saved my life. It's the story of Beauty and the Book, the only hair salon/bookstore in the country and the story of The Pulpwood Queens Book Clubs, the largest "meeting and discussing" book club in the world. Shoot, I started four more chapters this past week so what are you waiting for? Join in the fun.
The book is also a personal story. My own mother disowned me on Mother's Day two years ago prior to publication because she didn't like what I had to say in my book. She told me it was all lies. I was shocked beyond belief as I love my Mother very much and thought when I sent her the advance galley she would finally understand me and we could really reconnect as mother and daughter. Wrong, big time. But as Pat Conroy and Jeannette Walls guided me, onward book soldier. I have a story and it's all mine to tell and share with you. I hope you will read it! I wrote this book, not to hurt anyone, but to show that books can save anybody. Books saved me.
Go to
Beautyandthebook.com
and click on "The Pulpwood Queens' Tiara-Wearing, Book-Sharing Guide to Life" because besides all of the above, you'll get a treasure trove of reading lists perfect for summertime reading or really anytime reading. (Including my Top Fifteen Favorite Books and suggestions for the kiddos from babies to teens.) These are books that are NOT HOMEWORK. Let me repeat these are books that are enlightening, entertaining and engaging to read and educational without being HOMEWORK. Each chapter states at the end, if you liked this story, perhaps you would like to read this list of books.
My book also has recipes that are easy and delicious. You can amaze and surprise all your friends at parties this summer with these recipes. I actually have people come to events just because they know I will be bringing one of these dishes. And any book club who decides they want to read my book, I will call personally and send signed book plates. Email me at kathy@beautyandthebook.com or call me at the shop, 903-665-7520.
I will tell you that I am working fast and furious on my next book,
The Pulpwood Queens' Guide to Reading and Writing for a Higher Purpose
. I will also tell you in these hard economic times there is nothing more entertaining and inexpensive as a good book. It's the gift that keeps on giving and giving and giving so pass it on after you read it to a friend, a library, school, or nursing home so others can share in the power of the written word.
Tiara wearing and Book sharing,
Kathy L. Patrick
The Pulpwood Queen
P.S. The Pulpwood Queen is headed to Music City Texas in Linden, Texas, this weekend to hear the Timber Guys Book Club's band, The Blooze Brothers, open and kick-off the T-Bone Walker Blues Festival. Check it out at
Tbonewalkerbluesfestival.com
. I'll have a booth there. See you at Music City Texas!