RGG.com contributor Heather Johnson's book club recently read Chris Cleave's
Little Bee
,
the story of a Nigerian girl orphaned by violence whose life intersects with those of a British couple on holiday. Heather shares the varied reactions of her book group members to the novel.Click
here
to read a Q&A with Chris Cleave, who shares true stories surrounding
Little Bee
, discusses the novel's characters and themes and more.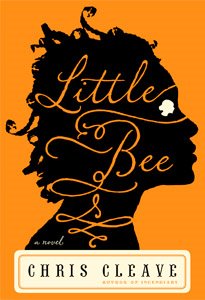 This month my book club met to discuss
Little Bee
by Chris Cleave. I'd first heard of this book right here on this blog, and I was really excited to read it. Our Sunday afternoon meeting was one of those rare days where almost everything seems to go right...
The weather was gorgeous --- mid-70s, fluffy clouds, lots of sunshine. Our hostess has the most perfect shady, screened-in porch large enough for the eight gals who attended to relax on her puffy chairs and soak in the mellow mood of the day.
We're not a club who goes all out with the food at our meetings, but we do like to eat. This time the stars aligned and we ended up with a fabulous spread: crepes, tons of fresh fruit, scrambled eggs with spinach and feta, bagels, chocolate covered strawberries, cake, and mimosas. Divine, I tell you...simply divine.
The book was a hit with most of the gals, but we all reacted to it in different ways. The defense attorney in our group identified with that feeling of helplessness in the face of injustice experience by one of the characters. Two members with babies under a year old struggled with the emotions brought up by the book; both women are more emotional than usual at this stage in their lives and had a hard time getting through the book. I reacted strongly to a scene in the middle of the book involving a little boy not much younger than my own son. Some of us identified with one of the main characters while others had harsh words for that same character. One woman protested that she only wants to read happy things from now on while the rest of us argued that the book isn't all sad.
We loved the book for the author's amazing ability with words. One gal described it as poetic; another said the tightness of the narrative made it feel like she was reading a short story. Everyone agreed that the book was beautifully written. We all loved the main character, Little Bee, and admired the way she chose to have a positive outlook on the world despite everything that had happened in her life. This led to a discussion about the ways that two people who go through a trying experience often react in completely different ways. That, in turn, led us to consider how we might react in similar situations.
After our discussion ended we voted on books for our next three meetings. We chose
The Art of Racing in the Rain
by Garth Stein,
The Guernsey Literary and Potato Peel Pie Society
by Mary Ann Shaffer and Annie Barrows, and
Till We Have Faces
by C.S. Lewis. Everyone was pleased with at least one of the chosen books, and that's all I can ask.
The meeting closed with the announcement of a pregnancy, the news that a PhD dissertation was approved, and a reminder that two members were out of town visiting an ailing relative: reasons to celebrate and reason to be concerned. In the end, that's really what a book club is all about --- connections between people and books, and between the members themselves. As I said at the beginning, this was a nearly perfect day.
---Heather Johnson