Yesterday we shared a list of 15 nonfiction books that reading group members are discussing. Here are some comments about specific titles they shared with us.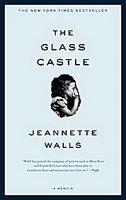 "Last month we read
The Glass Castle: A Memoir
by Jeannette Walls. This book really makes you think about how resilient kids can be and how hard it is to work and overcome adversity. Even more so when the adversity stems from your own parents, who you are raised to trust more than anyone else. Jeannette and her siblings are amazing. I'm so glad she finally told her story." ---Carrie Jordan, TriBeta Girls, Raleigh, NC
"This year we read
The Last Lecture
by Randy Pausch with Jeffrey Zaslow. The majority of us really enjoyed the book, and several of us watched Randy Pausch's 'last lecture' (delivered at Carnegie Mellon University) on
YouTube.com
as well." ---Sharon Long, Book Banter, Lone Tree, CO
"Our group, The Sophias, read
The Soul of Money: Reclaiming the Wealth of Our Inner Resources
by Lynne Twist.... Everyone enjoyed this book, and we had a lively and thoughtful discussion about our relationship to money. It made us more aware of what money can mean, our family issues with money and what changes we might make based upon what we learned about our relationship to money. We were all very touched by the story of Lynne's mother in her dying days when she gave away everything she owned not only to relatives and friends but also to those with whom she dealt with at the grocery store, the dry cleaner, the hairdresser and the local restaurant that she frequented, leaving just enough for her funeral." ---Bonney Parker, Ocean County, NJ
"Our book group is currently reading
Thunderstruck
by Erik Larson (author of
The Devil in the White City
). It's a great read, set at the turn of the 20th century, a story of murder and the advent of wireless communication. If history had been this exciting in school we would all be at the head of the class!" ---Jeanne Johnson, Pageturners, Multnomah County Library, Portland, OR
"We have just recently read a nonfiction for the first time in our group ---
The Survivors Club: The Secrets and Science that Could Save Your Life
by Ben Sherwood. Very interesting, great discussion. We have not planned anymore nonfiction yet but will in the future. It changes things up and keeps us talking!" ---Cheryl, Livonia, MI
"Since we're located in the heart of the corn belt,
The Omnivore's Dilemma: A Natural History of Four Meals
held special interest for our book club. A large part of the book is devoted to an explanation of corn economics and the domination of the American diet and American farming by corn and corn syrup. Even though it was a very long read, we were all fascinated by Michael Pollan's insights into American food culture and his experiences with experts in hunting, mushroom gathering and natural farming.
Our book club had mixed reactions to
How Starbucks Saved My Life: A Son of Privilege Learns to Live Like Everyone Else
. As a mother with a daughter who has worked at Starbucks in Minneapolis and in Madison, Wisconsin and loved the job and the company, I was excited about reading this book and wasn't disappointed. I thought Michael Gates Gill's anecdotes about famous people, such as Ernest Hemingway and Queen Elizabeth, whom he had met in financially better times, added to the book's interest, but some of our members felt like he was just namedropping. Still, the book definitely kept everyone's attention and made for some good discussion." ---Diane Richardson, CU@Bookclub, Champaign-Urbana, IL
"Mildred Armstrong Kalish, the author of the memoir
Little Heathens
, lived through the Great Depression in Iowa. She has written a warm, humorous book about her experiences. After a successful career as an English professor, we have been blessed by her decision to share her childhood memories with us. The word was spread in our town that this was a 'good' read, and we had a full attendance of 12 people show up at the library for the discussion. Two people made recipes from the book and brought those to share. A few of the elderly women could relate to the story and remembered the Depression. I found it interesting that she came to Miami University in Ohio for her training for her World War II duties." ---Carolyn Rector, Tipp City, OH
"The group found
The Man Who Loved China: The Fantastic Story of the Eccentric Scientist Who Unlocked the Mysteries of the Middle Kingdom
by Simon Winchester easy to read as well as interesting. Many of us had been to China and visited the places mentioned. The Appendix provided many interesting lists." ---Joy Martineau, Huntington Beach, CA
From Teresa Thompson, Pat's Page Turners, Apple Valley, CA:
The Devil in the White City: Murder, Magic, and Madness at the Fair that Changed America
by Erik Larson --- "Eerie and fascinating at the same time; a very good read."
The Glass Castle: A Memoir
by Jeanette Walls --- "Have to love this author's ability to live and love and let go. All thumbs up on this one."
Over the Edge of the World: Magellan's Terrifying Circumnavigation of the Globe
by Laurence Bergreen --- "An unforgettable book. Loved it."
A Thousand Days in Venice: An Unexpected Romance
by Marlena de Blasi --- "A delightful amble through life's choices mingled with food and Venice."