Laura Dave
's novel
The Divorce Party
is the story of two women at opposite ends of marriage, one on the brink of divorce after 35 years and the other engaged. Today we talk with Laura about how reading groups have responded to the two main characters, some of the research she did for the novel and the increasing media attention for real-life divorce parties.

Laura is also the author of the novel
London is the Best City in America
.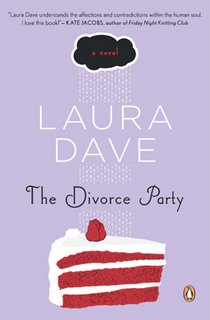 ReadingGroupGuides.com: A little over a year ago you wrote a guest blog post for us, around the time The Divorce Party was first published. Can you tell us about some of the memorable discussions you've had with book clubs about the novel since then?

Laura Dave:
I have had so many amazing discussions with book clubs. This week alone, I attended a very fun dinner with a book club in San Diego. And I spoke with a lovely book club in Ohio by phone. Each club brings something different to the discussion --- and we inevitably speak about many of the issues that permeate both the book and our lives: we discuss marriage and relationships, sacrifice for family and independence. I have yet to leave a book club discussion without learning something really interesting.
RGG: Real-life divorce parties have been reported by the media, including CBS' The Early Show, on which you appeared recently to talk about the subject. Do you think your book helped inspire --- or at least bring more attention to --- this trend? What are your thoughts on divorce parties?

LD:
Divorce parties seem to be gaining a strong momentum --- places as varied as CNN, Salon and CBS are covering their growing popularity. On one level, the concept of having a divorce party makes sense to me as a way to find a sense of peace as opposed to encouraging more acrimony. But, on another level, I think marital break-ups are difficult for a reason: they are supposed to be. Something sacred has broken down. I wanted to explore this idea within the context of one family.
I also think in some ways the title of my book is misleading. While there is a divorce party in the novel, my book's primary focus is on marriage and lifelong love, and asking the questions: what is required in today's world to make a lifetime commitment? And to stay devoted to that commitment?
RGG: It's interesting that you did research for The Divorce Party by talking to couples at all stages in their marriages. What did you learn from them that helped you craft the story and the characters?

LD:
I learned that there is no weakness in forgiveness. Being able to truly forgive is necessary in order to stay with one person over the course of a lifetime. My conversations while working on the book helped me to understand this in a way I wouldn't have been able to articulate before. It is brave to figure out how to stay together, even on the days it is the last thing a couple may want. In fact, in today's society, where everything is growing more and more disposable, it feels honorable to me.
RGG: The two main characters, Gwyn and Maggie, are in different places in their lives. Gwyn is divorcing after 35 years of marriage, and Maggie is engaged. Do book club members seem to be identifying most with the character closest to their own age, or has it been mixed?

LD:
It is always amazing to me --- and very humbling --- how much people care about both Gwyn and Maggie. (And sweet Georgia, for that matter!) But I think, at the end of the day, book club members of all ages seem to identify most strongly with Gwyn, the family matriarch: a woman who has sacrificed so much for her family, and who is beginning the hard-earned process of figuring out how to take care of herself as well.
RGG: What is the question that book club members ask you the most frequently when you're speaking with them about The Divorce Party?

LD:
They ask me a question about the book's ending. I can't really go into detail without spoiling an important plot twist, but, once you finish, feel free to
email me
and I'll gladly answer!