Krish Radish takes us behind the scenes of a writer's life --- and into her mind --- in today's guest blog post. Her latest novel,
The Shortest Distance Between Two Women
, takes the emotional measure of mothers, daughters, sisters and friends. Is Emma Lauryn Gilford on the verge of a breakdown...or a breakthrough?

Kris' other books include
Searching for Paradise in Parker P.A.
,
The Sunday List of Dreams
and
Annie Freeman's Fabulous Traveling Funeral
.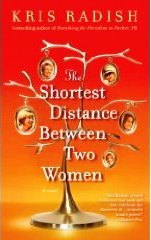 Lots of authors say writing a book is like giving birth to a real live baby. This must be why I always feel as if I am about to have a series of labor pains. The birth of
The Shortest Distance Between Two Women
, my sixth novel and eighth book, finally gets me close to those goofy people on television who have a mess of kids and are now getting divorced.
My labor pains come to me in swells. When I talk about my work --- which is really an embarrassing word when you love what you do --- I'm talking about my non-stoppable, wild, emotionally charged and often hilarious mind. I am writing inside of there all of the time. I carry around little pieces of paper and there's a tablet next to the bed and one in my gym bag and about six in the car. Because my ideas come to me all of the time I have to be ready at a moment's notice to throw a tarp over them and haul them off so I can put them into the computer. It's true what they say about forgetting things when you get older...and those other years before this --- well, I have no excuse for them.
Once I create a character and figure out what in the hell is wrong and right with her they become very real to me. I have so many of them sleeping in the closet and under the desk now, I may have to put up a tent soon. But that's the way I make my writing real, too. One of the greatest compliments I get is when readers tell me they feel as if they know my characters or the characters are like someone they know. Whew! What a relief. I sometimes joke that I am writing true fiction, but the big secret is it's really what I am doing.
And before you ask, the answer is kinda-sorta. My characters are based on people I may have seen at the airport or talked with for most of my life or watched from a distance, and they are also totally not those people because I roll them around inside of my head before they come out speaking entire sentences.
When someone reads one of my novels I hope that they are entertained and that I touch some emotional chords that make them laugh, cry, feel, think and have a really good time. So go pour yourself a glass of wine, crank open my novel and prepare for what I hope you will think is a wonderful jolt of life.
---Kris Radish