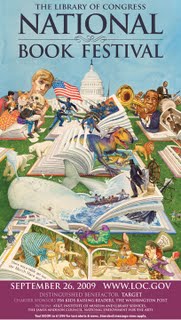 This past Saturday, Washington, D.C., played host to the National Book Festival. Denise Neary attended with a fellow book club member --- her teenage daughter --- and recalls festivities on the National Mall and a star-studded author breakfast.To read Denise's previous post, Family Bonding Over Books, click
here
.
We all look forward to certain days with some excitement --- for some a holiday, others the first day the pool opens for the season, the first day of snow, or the longest day of summer.
For me, it is the
National Book Festival
in Washington, DC.
Hard to describe what a booklover's dream that day is. It is a sweet little world and a lovely day where the book is the thing.
Location helps. The festival, hosted by the Library of Congress, is held on a real estate gem, the Smithsonian mall area, bracketed by the United States Capitol and the Washington Monument.
Price helps, too. It is provided to the public for free.
A little tent city is created, with each tent hosting a series of wonderful authors talking about their latest books --- mysteries and thrillers, children's titles, poetry and prose, teens, fiction, history and bibliography.
The authors, gods and goddesses for the day, traverse the mall in golf carts, waving like the Pope at those gathered. The crowd reaction is adorable --- we ooh and aah over seeing people we actually already knew planned to be there.
The crowd itself is priceless. An example --- four adorable high school girls had bright yellow t-shirts made for today's festival. On the back --- a list of all
Jodi Picoult
's books. On the front --- one had J, one O, one D, one I. Of course they had a picture taken with the author. As she set them up for the picture (they were so flustered that their original formation was IDOJ) she thanked them for making her feel famous.
The book paraphernalia is a thing to behold. The Magic School Bus has made appearances. Kids can have their picture taken with Dora the Explorer and a series of other characters from children's books. Publishers give away books and sponsor endless craft projects. Children squeal with excitement. And it is all about reading.
One hot September day there was a woman making the rounds of the festival dressed as Marmee from
Little Women
. A gaggle of young girls (and many of their moms) sighed at the sight of her.
In short, I really look forward to the festival. This year, I was invited (through an odd set of circumstances including some supplication) to attend the festival author's breakfast at the
Washington Post
. To say that I was happy about the invitation seriously understates my excitement.
My husband and 16-year-old daughter were invited to come, too --- but I told them they could only come if they were united in the belief that this was primarily my day, and that any happiness for them that day took back-burner. How could anyone argue with logic like that?
We weren't sure what the event would be like. My assessment after the fact? If only Louisa May Alcott had made an appearance, it would have been the perfect morning.
I was star struck from the moment I entered the
Post
(following Ben Bradlee!) to the moment I left. Some of the authors who were there when I arrived: Holly Black, Doug Brinkley, Michael Connelly, Sharon Creech, John Grisham, John Irving, Sue Monk Kidd, Lisa Scottoline, Nicholas Sparks. And they kept coming and coming.
My very cool teen nudged me in the side, with an excitement that reminded me of her at five. "There's Jodi Picoult!" she whispered.
We introduce ourselves to Ms. Picoult, who is --- and why would this be a surprise? --- so nice, so smart, so funny and so down to earth. And the whole time I am talking to her, I think "I am talking to Jodi Picoult.""
Two minutes later, I had a similar out of body experience while chatting with Sue Monk Kidd.
My husband and I were drinking coffee, eavesdropping behind John Irving, one of our favorite authors. "What goes on in that brain?" he asked, when his attention was diverted. He points to Kristin Downey, on her way to get a drink. "I want to talk to her --- she just wrote a book on Frances Perkins." How can you not like a guy who knows his authors by sight? And he was off. By the time I next saw him, he'd nabbed Ralph Eubanks and Michael Connelly as well.
The brief program remarks were wonderful --- smart, funny and uplifting.
Lisa Scottoline gave a speech that was almost a cheer (if your leaders of cheer are not just enthusiastic and beautiful, but also hilarious and brilliant) about why books matter.
John Irving spoke next. I am sure he was brilliant (he always is), but I didn't hear most of his presentation. As he spoke, Judy Blume crossed the room and stood next to me.
JUDY BLUME! Next to me.
I am completely anti-technology, and rail especially about all of the contraptions that tether us to be available all the time to everyone. Hate my phone, hate my BlackBerry, hate to get reply emails 15 minutes after I send a message saying "sorry for the delay."
What on earth do people want to tweet about? Are their lives really that exciting, that the rest of us need a play by play?
But, the moment she stood next to me, this thought popped into my brain: "This is a tweet-worthy moment."
And a tweet-worthy day followed --- visiting the festival, hearing authors talk about their work, talking to people who are in love with books. As wonderful as my favorite day was, it was tough to beat that morning.
---Denise Neary