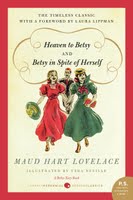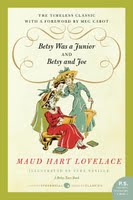 Are there books that captured your imagination when you were a child and that you still re-read from time to time? For RGG.com contributor Jennifer Hart it's the Betsy-Tacy series by Maud Hart Lovelace. Today she shares what drew her to the books, why she still has such an affinity for them --- and the part she played in giving some of the stories a second life.

Click
here
for a discussion guide to the Betsy-Tacy series.
If you're at all familiar with my blog, twitter or Facebook life as
Book Club Girl
, or if you've ever met me, you know that there is a series of books about which I am beyond passionate. Some people (my family among them) might even call me obsessed. But if you're in publishing and there isn't a series of books or an author that you don't lovingly follow, read and reread, then perhaps you are in the wrong industry.
The literary object of my affection is the Betsy-Tacy series of children's books by Maud Hart Lovelace. Now probably 90% of you reading this are thinking, "Hmm, well ok Jennifer, but I've never heard of this Betsy-Tacy. I was a well-read child, how could I have missed these? Surely, they can't be that good, or I'd know about them already." In the words of another fan, all I can say is: "I pity you, but envy you that the pleasure of reading these books still lies ahead." And you are not alone --- many people haven't heard of Betsy-Tacy. In fact, among those of us who love these books, the running mantra when we meet another one of us is "I thought I was the only one!" Because my sister was as equally obsessed as me, I never thought I was the only one, but we definitely thought we were the only two keeping the copies in the Nashua, NH Public Library in circulation.
But fans there are, not only on a vibrant list serv dedicated to Maud Hart Lovelace called Maud L, in four Facebook groups and in the national Maud Hart Lovelace and Betsy-Tacy Societies (not to mention many regional chapters), but also among acclaimed and bestselling writers including Meg Cabot (see her wonderful essay on the series in a recent issue of The Wall Street Journal) Anna Quindlen, Laura Lippman, Nora Ephron, Mary Kay Andrews, Judy Blume, Joyce Maynard and Nancy Pearl.

The Betsy-Tacy books were written in the 1940s and '50s and chronicle the life of one Betsy Warrington Ray, from the age of five, when she meets the girl across the street who will become her lifelong best friend, Tacy, all the way through her growing up, through four years of high school, on to a solo year of travel in Europe just prior to the outbreak of World War I and back home to Minnesota where she marries her high school sweetheart and embarks upon her career as a writer. The books are highly autobiographical and were based very much on Lovelace's growing up in Mankato, MN, the model for the town of Deep Valley in the books.

The first four books: Betsy-Tacy, Betsy, Tacy and Tib, Betsy and Tacy Go Over the Big Hill and Betsy and Tacy Go Downtown are illustrated by the wonderful children's illustrator (and author) Lois Lenski and are very much written for younger readers (I recommend starting with Betsy-Tacy when your daughter is five and you can read it aloud, or listen to the audio read by Sutton Foster), but the books progress in complexity and themes as the series goes on. Indeed, in the first four books, the subjects range from illness, death of a sibling, racism and family alienation and strife. They are lighthearted in tone and in the adventures that Betsy and Tacy embark on, but they also address more serious issues in a way that children can understand. In each book Betsy's world gets larger as she ventures further out into her neighborhood and town.

I read and reread those first four books over and over again when I was young. And I didn't know, at the time, that the series continued. I remember so distinctly the day that I opened up Heaven to Betsy, the first of the "high school books" and the one that chronicles Betsy's freshman year. As an awkward 12-year-old sitting with my legs flung over the living room chair, I was delighted to see that Betsy had suddenly blossomed from the cute but stocky Lenksi illustration and was now romantically drawn by the inimitable illustrator Vera Neville. Betsy's transformation mirrored the one I was longing for at that age. Betsy was setting off for high school --- there were boys, dances, drives in autos and high school hijinx, and I devoured every single high school book (Heaven to Betsy, Betsy in Spite of Herself, Betsy Was a Junior and Betsy and Joe) and the two that followed (Betsy and the Great World and Betsy's Wedding) and reread them to this day.

As a young girl I had always loved reading about "olden times," but I think what drew me most to the books was that, while they are definitely set in the past, so much about Betsy's life seems modern --- she has friends who are boys (as opposed to other books set in the past where boys and girls never mix and mingle); she longs ---not to be married (at least not immediately) - --but to become a famous writer and travel the world; she gets into trouble (nothing too extreme, but still, trouble) at school; and she is constantly struggling to figure out who she wants to be and what she wants people to think of her. All of this spoke to me as a young girl growing up. As I got older, rereading a Betsy book was the literary equivalent of comfort food. I turn to them when life is difficult, and they soothe my soul.

When I realized that the older books in the series were in need of reissue, we thought immediately of publishing them as Harper Perennial Modern Classics --- a line that includes classics such as Harper Lee's To Kill a Mockingbird and Betty Smith's A Tree Grows in Brooklyn, two books that are also loved by readers young and old.

Heaven to Betsy and Betsy in Spite of Herself, Betsy Was a Junior and Betsy and Joe and Betsy and the Great World and Betsy's Wedding are now available in three 2-book volumes with Forewords by Laura Lippman, Meg Cabot and Anna Quindlen, respectively, and cover illustrations from the books' original publications by Vera Neville.

Working on these reissues has been one of the highlights of my career. I traveled this summer to the Betsy-Tacy Convention in Mankato, MN , met descendants of various characters in the books and toured Betsy's and Tacy's childhood homes and the town of Deep Valley. I spent a delightful afternoon poring through Maud's photo albums for photographs for the back matter in the reissues. Betsy-Tacy Convert Week is in full swing at Book Club Girl, in which hundreds of fans who were sent a Betsy book are giving them away to new fans of the series and reporting in on their results. Best of all, I have met smart, funny and interesting women from around the country who also count Betsy as one of their best friends, and I have, I hope, introduced Betsy to countless more.

---Jennifer Hart