Book club members are a generous group and are often inspired to take action to help others in various ways, as we've noted in previous posts. Bookseller
Debra Linn
's group made a donation to the Florida Immigrant Advocacy Center after reading Edwidge Danticat's memoir
Brother, I'm Dying
, and author
Ann Hood
talked about how even hobbies like knitting can be used to make a difference. In last year's round-up of
holiday activities and traditions
submitted by ReadingGroupGuides.com readers, many noted that they seek out ways to help in their communities and beyond.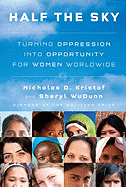 In a piece on the
HuffingtonPost.com
, Linda Mason, Chair of the Board for the aid organization
Mercy Corps
, highlights businesswoman Rufi Natarajan and her Houston reading group, who selected and discussed
Half the Sky: Turning Oppression into Opportunity for Women Worldwide
by Pulitzer Prize-winners Nicholas Kristof and Sheryl WuDunn. "This book club was incensed and compelled to action," writes Mason. They have raised $700 so far for Mercy Corps, which works on behalf of women in developing countries, and Rufi is speaking out to alert more American women about the cause.
Rufi's book club, notes Mason, is one of more than 400 around the world participating in an initiative to have groups read
Half the Sky
and spread the word about Mercy Corps' cause. Authors Kristof and WuDunn plan to visit the book club that compiles the most impressive record of activism by June 15, 2010. Click
here
for information and to sign up your group for the contest.