For book clubs looking for guidance on memoirs, there is a great resource at hand ---
Read On…Life Stories: Reading Lists for Every Taste
, which offers brief descriptions of nearly 450 memoirs, from classics like
The Autobiography of Benjamin Franklin
to recent bestsellers like Julie Andrews'
Audition
. Today we talk with librarian and author Rosalind Reisner about how she selected the titles included in
Read On...Life Stories
, the top three memoirs she thinks will spark interesting discussions and much more.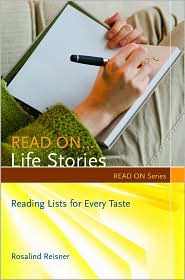 ReadingGroupGuides.com: Read On…Life Stories is comprised of "annotated reading lists organized with serendipity in mind," you write in the Introduction. Why did you organize the titles by themes, such as "Marching to Their Own Drum: Unique Individuals" and "Outside the Box: Interesting Occupations"?

Rosalind Reisner:
There are so many memoirs published --- especially in the last few years --- that it's overwhelming for readers to figure out what to read next. The lists are designed to help you sort through what's out there and find the memoir you'll love based on the subject and the writing --- what librarians call the "appeal" of a book. So I have lists of memoirs that are strong on character --- where authors really bare their souls, like the list called "Identity Papers: Discovering Our True Selves." Or, there are lists where the story is most important, like the list titled "Living to Tell the Tale: Near-Death Experiences." Other lists focus on the setting, like "Far Out: Travel to Unusual Places" or the mood, like "Backward Glance: Nostalgic Memoirs." There are 55 lists, covering a wide range of subjects, appeal and writing styles.
Readers can also look up a favorite title in the index and then see other, related titles in the list. I was also hoping that the lists would make the book fun to browse, that list names would pique people's interests and help them expand the range of their reading.
RGG: There are nearly 450 titles featured in Read On…Life Stories. How did you decide which books to include?

RR:
I looked for titles that were well-reviewed, won awards, or were listed on "best" lists. I also included some older personal favorites, like
Testament of Youth
by Vera Brittain and
A Fortunate Life
by A.B. Facey, both classics in England and Australia, respectively. While I was working on the book, people would sometimes ask me how I found the titles to include and I would laugh --- my problem was making a selection out of so many wonderful memoirs! I often felt overwhelmed by the number of glowing reviews I'd read each week and race off to the library, bringing home armloads of books. I'm sure the staff at my local library wondered if I spent every waking minute reading memoirs!
That's also why I started the website
AReadersPlace.net
as an ongoing resource. I wanted to have a way to continue writing about great memoirs and narrative nonfiction for readers, discussion groups, and librarians.
RGG: What are the top three memoirs you think will make for especially great discussions?

RR:
I think
Here if You Need Me: A True Story
by Kate Braestrup would be my first choice. It's a spiritual memoir about a woman who became a chaplain in the Maine Warden Service after her husband died. Braestrup deals with life's important questions, and her story is thought-provoking no matter what religion you practice.
She's Not There: A Life in Two Genders
by Jennifer Finney Boylan would be a good choice for a book that would stimulate discussion and controversy, too, in some groups. It's a riveting memoir about a woman who always knew she was meant to be a man --- funny, insightful and beautifully written. It's hard to stop at just three, but I'd say
House of Happy Endings
by Leslie Garis would be another good choice. Garis grew up in a household of well-known writers --- her grandparents wrote
The Bobbsey Twins
series --- whose personal demons ravaged the family.
RGG: For book clubs that have never read a memoir, which one do you recommend as their first selection?

RR:
The Road from Coorain
by Jill Ker Conway would be a good place to start. It's a classic coming of age story with an unusual setting: a sheep ranch in the Australian outback. Conway's account of her struggles to find her way to successful adulthood is wonderfully told and there's lots of food for thought --- and discussion.
RGG: What are some lesser-known memoirs that book clubs might want to know about?

RR:
I loved
Drawn to the Rhythm: A Passionate Life Reclaimed
by Sara Hall and can't figure out why it's not on every book group list. It's a wonderful, inspirational story about a woman who seized the opportunity to remake her unhappy life. Also
The Unheard: A Memoir of Deafness and Africa
, by Josh Swiller, a remarkable story about a young, deaf Peace Corps volunteer who had a very unusual, life-changing experience in an African village. And I would also recommend
First Darling of the Morning: Selected Memories of an Indian Childhood
by Thrity Umrigar one of the most insightful coming of age memoirs I've read in a long time.
RGG: This year a popular memoir has been Julia Child's My Life in France, inspired in part by the movie version of Julie and Julia by Julie Powell. For those who enjoyed reading about Child's life abroad, what other memoirs would you recommend?

RR:
I loved
My Life in France
, and I'm a big fan in general of books about experiencing other cultures. I'd suggest the following titles:
Almost French: A New Life in Paris
by Catherine Sanderson, about a young Australian woman who moves in with her French boyfriend and discovers that French culture is very different from what she expected. Another great title is
The Caliph's House: A Year in Casablanca
by Tahir Shah, about renovating a wonderful old house in Morocco and in the process learning about the house's human and spiritual guardians and enemies. Also,
Four Seasons in Rome: On Twins, Insomnia, and the Biggest Funeral in the History of the World
by Anthony Doerr, about a writer who moves from Idaho to Rome with his wife and infant twins and falls in love with the city.