Some say the book is going the way of the dinosaur. Not true. While the publishing world is evolving with new delivery methods and struggles over price, you all just keep on reading. You probably started out thinking of reading as something you did alone in your cave, but if you're anything like me you'd finish a book and have a million things to say. So, out of the cave we came and the evolution of the book club began. We gathered around the fire (with our Cabernet), sent the men (except the most highly evolved) off to hunt - or play poker, and we talked about our books. Well now, we evolve again. Cities, towns and communities around the world are starting reading programs designed to get everyone involved. Join ReadingGroupGuides.com as we feature some of these amazing programs.

In today's post Saratoga Reads! board chair Tabitha Orthwein answers some questions about the program and what works best for them.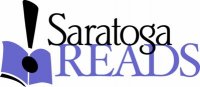 Saratoga Reads!
began as a community outreach project from
Skidmore College
. The program began as a Skidmore College-Saratoga Collaboration with the start-up resources provided largely by the college. As the program grew, the organization gained independent not-for-profit 501(c)3 status with Skidmore remaining a premier sponsor.
1 - How do you select the book?
Saratoga Reads! is committed to having the community select the book each year. We begin the process by inviting community members to nominate books via a form that we post on our website during a set period or time which has typically been June-August.
As nominations are received the organizations Book Selection Coordinator works with a group of some 30-40 volunteers who serve as readers on the Selection Advisory Group. The readers provide a summary and recommendation for each book to determine a list of books highly recommended by the committee for our community read.
The group then convenes to whittle the list to 6 or fewer books that comprise the Saratoga Reads! ballot. Community members are then invited to cast their vote at a number of locations including our web site, the Saratoga Springs Public Library, Skidmore College, our local Borders and Barnes and Noble stores, Saratoga Springs High School and a few smaller venues. The voting period is typically 3-4 weeks long (this year in October) and we announce the winning title in November. For a bit more info see
http://www.saratogareads.org/BookSelection.cfm
.
We also select junior companion titles. This is done by a Junior Advisory Group who meets and communicates via email to form a list of companion titles for readers of all ages. The full list is available at
http://www.saratogareads.org/juniorbooks.cfm
.
2 - What other activities aside from the author coming to talk are part of your program?
In some years we have been fortunate enough to have the author join us for a talk and book signing (Gregory Maguire, Sandra Cisneros, Sara Gruen have joined us. And, Khaled Hosseini via an off-site taped interview) and this is of course a highlight of the year.
However, the success of the year does not depend upon an author event. The breadth and depth of programming provided by
Saratoga Reads!
and partner organizations is extraordinary. For a thorough look at this year's celebration of
The Guernsey Literary and Potato Peel Pie
Society I invite you to scroll through our
online events calendar
.
3 - How do you let people know about the overall program and individual activities?
Saratoga Reads! works very hard to let people know about the program and activities. We have a PR Coordinator on the executive board who coordinates all efforts of an action board committee consisting of a Print Promotions Action Chair, Electronic Promotion Action Chair, Media Action Chair and Web Action Chair. We have an active web site. We maintain an email list and send a monthly e-letter and event announcements. We create large scale posters and bookmarks announcing the winning book. We create flyers for events. And, we produce media releases for each part of the process and grouping of events. We distribute relevant information through the school system.
4 - What ideas have worked really well for you?
Cultivating community partner organizations is critical to the success of a community reads program.
5 - What hasn't worked?
It's all trial and error! We have had six successful community reads and each book has it's successes and difficulties. Just go with it!
6 - What advice would you give to someone trying to start a campus or community reading program?
There are many community reading programs out there now. My advice would be to talk to contacts from programs in communities that are similar to yours and take it from there. Set goals, start small, and have fun!
Need more advice on community reads? Stay tuned as we continue to feature some great programs right here on our blog. Have a program in your town? Want to share? Email me at
dana@bookreporter.com
--Dana Barrett, Contributing Editor