In case you haven't noticed, giving back has become oh so trendy. Not that that's a bad thing. Quite the contrary. Anything that brings a good cause to the public's attention and gets people working for positive change is a good thing. No matter the inspiration. To that end I figured as committed readers you might be inspired by some wonderful organizations that are both giving the gift of literacy and giving back through reading! Check 'em out:

United Through Reading
Our regular contributor Denise Neary brought this group to my attention and they were recently featured on NBC. They make it possible for military personnel serving away from home to read to their kids via videotaped sessions and Skype. It's great for the kids, the parents at home and the military personnel who get to connect with their families.

R.E.A.D - Reading Education Assistance Dogs
I first learned about this group through Better World Books who recently awarded the group a $20,000 Readers' Choice Literacy Grant. The R.E.A.D. program improves kids' reading and communication skills by employing a powerful method: reading to a dog. But not just any dog. R.E.A.D. dogs are registered therapy animals who volunteer with their owner/handlers as a team, going to schools, libraries and many other settings as reading companions for children.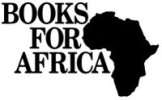 Books for Africa
Books For Africa. A simple name for an organization with a simple mission. They collect, sort, ship, and distribute books to children in Africa. Their goal: to end the book famine in Africa. Books For Africa is the world's largest shipper of donated books to the African continent. Since 1988, Books For Africa has shipped over 22 million high-quality text and library books to children and adults in 45 African countries. Millions more are needed.
These are just a few of the thousands of amazing organizations out there making literacy their mission. Wanna make it yours? Contact any of these great organizations to see how you can help and look for more organizations to be highlighted here on our blog! You might even find a fun literacy focused group project for your book club!
--Dana Barrett, Contributing Editor