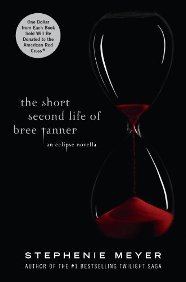 I know we are all sophisticated readers of literary masterpieces and could not possibly be interested in the new release of a YA vampire book, so I am only writing this post so you will not be out of the loop and so that you can let your daughters know what's going on.
Or not.
Listen, I love a good story. Whether it's written by William Shakespeare or J.K. Rowling doesn't matter to me. I am not ashamed to admit I enjoyed the whole Harry Potter series and read them each the week they came out. And I'm not ashamed to say that I dig Stephenie Meyers' Twilight series either. (Though I have so much to read these days for work that I haven't finished them all yet).
So whether this info is for you - or someone you love, here's the deal:
The new book is an Eclipse novella based on one of the "new" vampires introduced in Eclipse. It's called
The Short Second Life of Bree Tanner
. It comes out officially on June 5th and is available for pre-order most everywhere as of yesterday afternoon.
And here are some cool additional things to know:
The book will be available for FREE online from noon on June 7th until July 5th at http://www.breetanner.com. Stephenie says it's her gift to her fans.


$1 from each book sold goes to the American Red Cross to help in Haiti and Chile.
To read more about it, check out the author's website at
http://www.StephenieMeyer.com
.
So - I know you don't really care. But just in case you do...
-- Dana Barrett, Contributing Editor