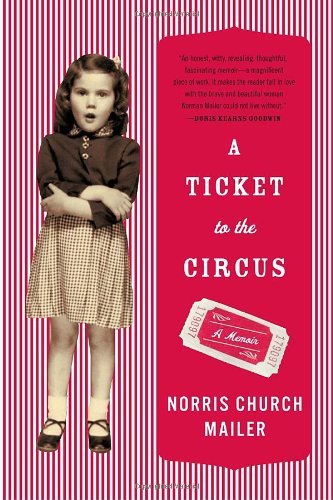 I think most of us would agree that the truth is often stranger and more fascinating than fiction. But is it more discussable? I spent the last couple of days reading Norris Church Mailer's wonderful memoir in prepration for an interview with her for the Better World Books Podcast. The book is called A TICKET TO THE CIRCUS and I found it forthwright, unapologetic and entirely relatable.
But it got me thinking about memoirs and non-fiction in the context of book clubs. My book club has only read a couple of memoirs over the years, and as much as I like reading the books, I have always found the discussions a bit odd. I mean, when you're discussing fiction you can talk about a character's motivation and whether or not you found their actions or words to be beliveable. But in a memoir - it's all "believeable", 'cause well... it actually happened. I suppose you can still talk about the author's writing style or what they choose to reveal and what they don't, but it feels a little like picking on someone who's not there to defend themselves when you start to discuss their personal life choices. That said, it seems to me that for better or worse, the discussions are automatically wholly different than those for fiction.
Not that that's a bad thing. In fact the more I think about it the more I think it's a good thing. I like the idea of mixing it up and keeping the group fresh by trying different things and I know over the years there have been some really discussable memoirs and biographies. Just for giggles here are a couple I've really enjoyed or heard great things about that might work for your group.
Want more memoirs to talk about? Check out some of our memoir discussion guides. What's the last memoir you group read? How was the discussion? Do you read memoirs often? Any tips to keep the discussions engaging? Email me at dana@bookreporter.com or feel to share your comments right here on the blog!
-- Dana Barrett, Contributing Editor