In today's post, one of our newest contributors Austin Public Library's Reference Librarian Bonnie Brzozowskiand her apprentice Matt Dumond talk about reading an "incomplete" story for book club and assure us that a good conversation can still be had.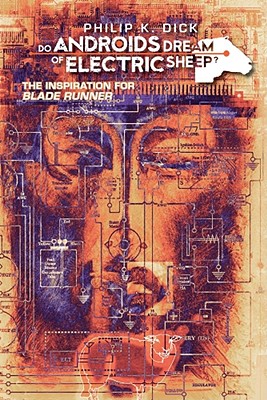 Adventures of a Graphic Novels Book Club
Last week Austin Public Library's Graphic Novels Book Club met up at their usual local coffee shop to discuss a graphic novel adaptation of DO ANDROIDS DREAM OF ELECTRIC SHEEP? by Phillip K. Dick, illustrated by Tony Parker. Being perhaps the most out of the box selection we've ever tackled as well as the fact that the series is incomplete, presented some interesting challenges for me and "my apprentice", Matt Dumond, in preparing for our discussion. I call Matt my apprentice because, technically, he is – he's shadowing me, part of an APL staff program, to learn more about the book club and what it's like to run one. This month he was slated to lead the discussion.

The Club's whim to read something a little newer and somewhat unknown (much different than our previous selections, which have been well-reviewed and/or bestselling) definitely was going to make Matt's preparation for discussion difficult. The series is incomplete and the first two volumes only represent about a quarter of the original novel meaning that many of the themes are only partially explored with all storylines incomplete. The trick was to focus on what is there in this first section of the novel: noting how the themes are being developed, speculating on outcomes, and gauging the success of the novel as a graphic adaptation would be good starting points for developing discussion questions. I showed Matt a few sample discussion questions I wrote after reading the books and referred him to a volume of NOVELS FOR STUDENTS, a reference work here at the library, that covered DO ANDROIDS DREAM OF ELECTRIC SHEEP?. Matt ended up leading an engaging, lively conversation and is here to offer his perspective:

To prepare for the discussion, I started by reading the original novel, and then jumped into some critical analysis of it, supplementing both with a couple of interviews by author Phillip K. Dick (and, I must admit, 3 or 4 of his other books, to get into the right mindset), and a few reviews of the graphic novel adaptation. Our discussion centered around the characters' perceptions of reality, as well as how they defined humanness. We also managed to tackle the American Dream as experienced in a dystopian future, and to contemplate humanity's relationship with technology and religion. Each of these themes gave us a great stepping stone for the consideration of the themes in our own lives.. As the GN pulled its text from the source novel verbatim, it came across as distractingly wordy and, combined with the lackluster artwork, it did nothing to increase our understanding and appreciation of the tale. The film Blade Runner, also an adaptation of DO ANDROIDS DREAM OF ELECTRIC SHEEP?, succeeds in its own right, featuring a pruned plot that is more detective story than the original novel. Perhaps that is where the graphic novel fails—it tries to be both the novel and a re-working of it, and can excel as neither. Though the selection was a bit difficult, the discussion was a success: everyone was engaged, the conversation was fluid and dynamic, and, hopefully, all of the participants were encouraged to delve further into the worlds created by Phillip K. Dick.

We look forward to September when we discuss QUEEN & COUNTRY, VOLUME 1: OPERATION BROKEN GROUND by Greg Rucka. For now, here are a few discussion questions that could be used with the DO ANDROIDS DREAM OF ELECTRIC SHEEP? graphic novels or the original novel:

1. Why would it be necessary to have an empathy box in this kind of world? What does the empathy box do for people that they cannot otherwise get through their own realities? What does the box represent to John Isidore, for example?

2. Rick Deckard executes the Voigt-Kampff test to determine whether or not a person is in fact an android, yet it is suggested by Luba Luft that Deckard may not in fact be able to pass the test himself. Does this make him less than human? In what ways does Deckard resemble an android? What is the author trying to say about human-ness? What makes us human?

3. On that note, androids can be retired because they are not human, they are machines designed by humans. But, what if androids did express empathy? Would that then make them human enough to avoid their fate when they escape? If humans are capable of empathy, why can't they empathize with androids?
-- Bonnie Brzozowski & Matt Dumond, Austin Public Library