In today's post, regular contributor Denise Neary shares the holiday and book spirit. This sounds like the perfect gift for me, so if anyone needs my address to send me one, just let me know! No pressure.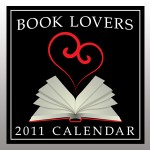 It isn't even the end of October, and I am officially in the thinking about gifts mode.
Perhaps I am influenced by the fact that my local drugstore is currently selling decorations for Halloween, Thanksgiving, Hanukah and Christmas all in the same aisle!
Like most of the people reading this site, books are always on my present list---to give and to get! I also love book paraphernalia----mugs, bookmarks, stationary, posters, chocolates wrapped like books.
I have a new item to suggest for those on your book-loving guest list….the 2011 Book Lovers Calendar.
This description from their website:

"Our high quality 28-page wall calendars are printed on glossy, 12 point paper and measure 12″ x 24″ when open. The Book Lovers Calendar features colorful literary pictures, fun literary facts and stories, author birthdays and bookish quotes. 365 days of literary fun!
And remember, a portion of the sale of each calendar will be donated to First Book, the organization that gets books into the hands of children in need!
The 2011 Book Lovers Calendar available NOW!!! for $13.99"


A great gift supporting a great charity---what is not to like about that combination?
That's just one idea of course - we'd love to hear your favorite holiday book gift ideas---we're always looking to borrow great ideas from smart people.
-- Denise Neary, Regular Contributor