Eleanor Brown is stunning audiences with her debut novel, The Weird Sisters, a quirky coming-of-age tale about three incredibly bookish sisters (who don't happen to like each other very much) who return home to lick wounds and bury secrets, only to find that each of the others is already there --- and might have more to offer than any of them ever expected. In this interview, Brown talks about the evolution of the story that became this book, elaborating on its intriguing title and why she decided to name her heroines after some of Shakespeare's most famous female characters. Visit her website, www.Eleanor-Brown.com.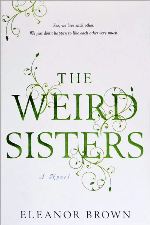 Q: What inspired you to write this novel?

A: I got serious about writing a novel the year I turned 30. I said to myself, "Self, this is the year you either do it or give up the dream forever." So, I wrote some really terrible novels in all kinds of genres that helped teach me a great deal about the craft, and finally I thought of a story I'd played around with years before, and that became The Weird Sisters. The core of the story --- three very different sisters and their belated coming-of-age --- had been with me for a long time, but they were never quite the right sisters and it was never quite the right time. When I'd written absolutely everything I wasn't meant to write, I finally sat down and let the Andreas sisters in.

Q: The sisters in the novel are each named after one of Shakespeare's famous heroines: Rosalind from As You Like It, Bianca from The Taming of the Shrew, and Cordelia from King Lear. Why did you choose these three Shakespearean characters in particular, to name the sisters after? How much do the personalities of Rose, Bean, and Cordy align with their Shakespearean counterparts?

A: Bianca and Cordelia's names actually came first --- Bianca is the beautiful second daughter in The Taming of the Shrew, so with what I knew about her character when I began, that was the natural choice. And Cordelia is the devoted youngest of three daughters in King Lear, so that was another obvious one. I struggled with Rosalind's name for much longer, but I wanted her to be a little bit in love with the idea of being in love. I had a memory of seeing the Royal Shakespeare Company doing As You Like It in Stratford-upon-Avon. There is a scene where Rosalind --- this bright, intelligent, opinionated woman --- is running around the forest, plucking the love poems Orlando has written for her off the branches of trees, and they had staged it so beautifully, and I just thought, 'Yes. That's exactly what she's like.' And so she became Rose. The sisters do bear some resemblance to Shakespeare's characters, and that's something each of them wrestles with in the novel. But I didn't want their stories to be a retelling of the plays (Shakespeare's done that already, and he's rather good), so each sister ultimately follows her own path.

Q: How did the title of the novel come about? What is its significance?

A: For a long time, the working title of the book was Trinity. I really wanted to focus on the importance of the number three, and religion was going to be a bigger part of the novel. But when I created the father and the family began to take shape around the form of his devotion to Shakespeare, I knew I was going to need a different title. There's a portion of the book where the sisters explain that "weird" didn't mean to Shakespeare what it means to us --- the three witches in Macbeth are really the three Fates. The Andreas sisters are quite tied to the idea of destiny, and part of the story is their learning to accept what their fates really are, rather than heading grimly down the path of what they think they ought to be.

Q: If you were one of the three sisters --- Rose, Bean, or Cordy --- which would you be?

A: I already am all three of them! I think there's a little bit of each of the sisters in all of us --- a little bit of longing for adventure or glamour, a little bit of wanting nothing but safety, a little bit of care-taking and a little bit of risk-taking. I definitely drew on those conflicting desires in myself when I was creating the Andreas sisters.

Q: The novel is in part an homage to books and reading --- the Andreas family is one of compulsive readers. Their love of literature is a large part of their familial bond. What role did books play in your own life growing up?

A: My parents raised my two older sisters and me in a house full of books, where the most important life lesson we learned was never to go anywhere without taking something to read, and no dinner conversation is complete without the consultation of at least one reference book. Reading was --- and is --- the center of my life. I was lucky to be raised by parents who considered reading the most important thing we could do. We took weekly trips to the library, filling canvas bags with books until they overflowed. I was allowed a half hour of television per week, and at the time I chafed at that, but now I'm incredibly grateful. I've always been a daydreamer, and books let my imagination run wild in the most delightful ways.

Q: What was your process of writing this book? How long did it take you?

A: The seed of it started years before I ever actually produced The Weird Sisters as it is now. I had a number of fits and starts on a story of three sisters, but when I finally got serious about it, it took me about a year to write the first draft. Writing for me starts slowly, and then I hit a point where I just fall in love with the characters and absolutely cannot stay away from them, to the point that when I'm not actually writing, I'm wondering what they're up to or what they're going to do next.


-Click here for a review of The Weird Sisters on Bookreporter.com.
-Click here to read an excerpt.
-Click here to read the full interview with Eleanor Brown.