Cavanaugh Lee is the author of Save as Draft, in stores now, a love story told entirely through e-mails, texts, Twitter, Facebook and the online dating world. When not writing and searching for love herself, she is a prosecutor in Savannah, Georgia. Visit www.CavanaughLee.com for more.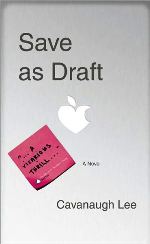 On Valentine's Day, I figured we might as well talk about love, right? That's what everyone talks about the first two weeks of February so we should probably join in on the debate!
And it is a debate…
What to do on Valentine's Day? (Especially if you are a single female)
Obviously, the first thing I'll tell you to do is pick up a copy of my timely book,
Save As Draft
, which was just released by Simon & Schuster on February 1st. Like I said, perfect timing, yes? It's all about life and love and all that comes with it. More specifically though, it's a love triangle evolving entirely over emails, texts, tweets, Facebook status updates, and online dating profiles.
Even better, Valentine's Day actually occurs in the book (on pages 18 and 81 to be exact). The two male characters, Marty and Peter, vie for the affection of the central female protagonist, Izabell ("Izzy"), on the most romantic day of the year. Marty has yet to actually meet Izzy at this point since they've only recently started communicating online via eHarmony. So, he "appropriately" sends her a Hallmark E-Card (harmless enough but gets the message across). Of course, it's not what he really wants to say to her on Valentine's Day, but it'll do for now. What he'd really like to say is:
I think I'm starting to like you --- a lot --- even if we haven't even met yet.
Peter, on the other hand, has known Izzy for over two years --- in fact, they've been best friends and he has secretly loved her all this time. So, what does he do? Nothing, of course.
That is, until Izzy laments to him her profound sadness at receiving nothing special from her "BFF," but not before drafting yet not sending (hence, "saving as draft"):
"Where's my (expletive) V-Day card, you (expletive)?"
Of course, she doesn't send that! That would be too confrontational! Too abrupt! Too honest! The response she gets to her much more tame email is: "a bottle of wine, handmade coupons, and candles" left outside her apartment doorway. No, he didn't have enough guts to give them to her face-to-face although one of the coupons was for a hug so that's progress.
Too bad Izzy never sent her original draft email as described above --- she may very well have gotten a better gift.
Kidding.
Although not really… Because in SAD (the apropos nickname for "Save as Draft"), no one really says what he/she means or, for that matter, means what he/she says. They "save as draft" instead, leaving the most critical emails festering away in their Draft folders (or worse yet, Trash bins) never to see the light of day. The result? No one knows how the other feels and hence one very complicated "love" story.
Really, what does it say (or, rather, not say) when a person "saves as draft" something important? Has all this technology --- email, Twitter, Facebook, G-Chat, etc. and so forth --- actually made it easier or harder to communicate? Along those lines, are we using the technology to express ourselves more fully, or to edit and fabricate ourselves instead? Are we communicating more or less when we write hundreds of emails a day? If we spend hours crafting the perfectly witty email, have we told the truth, or have we simply been "witty"? Most of all, in our daily on-line lives, have we sacrificed a genuine connection in favor of a wireless one?
Sadly, I do believe that our generation --- Generation Text, as I've heard us called --- has developed "electronic spines." We don't "hit send" when we should. It's too risky. We might say the wrong thing. I mean, what would have happened if Marty had called Izzy up on Valentine's Day and said:
"I know we haven't even been on a first date yet, but I think I really like you. So, why don't we go on a first date on February 14? What do we have to lose? Let's do this!"
Or, what if Izzy had actually sent Peter:
"Where's my (expletive) V-Day card you (expletive)?!"
I think he'd have known how she felt, at the very least.
And, Peter… he's loved Izzy for two years… wouldn't Valentine's Day be the perfect time to finally tell her how he feels?
So back to our original question: What to do on Valentine's Day?
If you find yourself at home with nothing to do this February 14, I recommend that you put on your comfy PJs, crawl into bed, prop a bunch of fluffy pillows behind your back, and be SAD (no, not "sad," but "Save as Draft").
But, better than even that, how about sending, not saving, an email to someone special? We've all got that person in mind --- the guy we've loved for two years but never had the guts to admit it to, the guy we just met with whom we'd like to go on a date, the guy we're casually "seeing" because neither one of us wants to admit we want something more, the guy who keeps stopping by our local coffee shop but has never asked us out, the guy we will randomly bump into tomorrow at 3 p.m. in front of our office, the list goes on and on…
So, let's do this. Let's hit send instead on Valentine's Day. After that, let's breathe a unified sigh of relief, pour ourselves a very tall glass of cabernet, and call it a night! The opportunities for February 15 will be endless…