Still recuperating from another Valentine's Day? Or seeking another romance diversion? Bestselling author Allison Pearson (I Don't Know How She Does It) has you covered with a her favorite crush songs, as inspired by her latest bestseller I Think I Love You, a novel that celebrates love and music.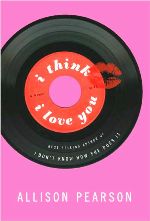 1. "I Think I Love You" by The Partridge Family: The classic Patridge Family anthem to unrequited love still comes up paint-fresh after an incredible 41 years. Great tambourine work from the younger Partridge kids and, of course, vocals from the boy in the posters on my bedroom wall, David Cassidy himself.

2. "Daydreamer" by David Cassidy: It must be a dead heat for the top spot with David Cassidy's "Daydreamer." Oh God, I can still feel his breathy voice on the back of my neck.
3. "Oh Lori" by The Alessi Brothers: The quintessential summer love song, sizzling with youthful infatuation and testosterone. And they manage to work in the word "bicycle." Respect.
4. "Dear Mr. Gable, You Made Me Love You" by Judy Garland: Check out the young Judy in her nightgown singing to a photo of Clark Gable. One of the songs that made me want to write my new novel – to try and explain why it is we never forget our first crush.
5. "I'm Not in Love" by 10cc: Like a metaphysical poet, the singer tries to clamber out of the pit of obsessive infatuation, but only slips in deeper. John Donne, eat your heart out. This is beautiful.
6. "Seasons in the Sun" by Terry Jacks and "My Eyes Adored You" by Franki Valli (tie): Terry Jacks' infuriatingly catchy ballad of doomed teen love gets into your brain like gum. I prefer Franki Valli 'sheart-stoppingly lovely "My Eyes Adored You."
7. "(They Belong) Close to You" by The Carpenters: This is the 10-ton truck of crush songs. I wasted several sentences in my novel trying to capture the genius of Karen Carpenter's voice --- molten chocolate etc. --- but you only have to hear her opening "Why" to submit utterly. "On the day that you were born, the angels got together and decided to create a dream come true/So they sprinkled moon dust in your hair and golden stardust in your eyes of blue."
8. "Puppy Love" by Donny Osmond: I was a Cassidy fan back in the early Seventies, when you were either a Donny or a David girl, but I have to admit this ballad of teen yearning holds up well and Donny looks better every year. He's right when he sings that we patronize first love and underestimate its primal power. Here he is at the Ohio State Fair in 1972, with a backing track of screams. Way to go, girls!
For more about Allison's playlist, and videos of each track, click here.