Houghton Mifflin Harcourt announced earlier this week its editori lineup for its annual Best American Series, which celebrates the best writing across eight categories. The series will be released October 4th in paperback format. Below are the guest editors for 2011 and their bios.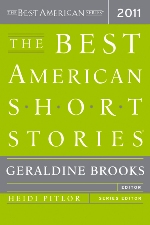 The Best American Short Stories
: Geraldine Brooks
Geraldine Brooks was awarded the Pulitzer Prize in fiction in 2006 for her novel March.Her first novel, Year of Wonders, is an international bestseller, and her novel People of the Book was a New York Times bestseller, translated into twenty languages.
The Best American Essays
: Edwidge Danticat
Edwidge Danticat is the author of National Book Award finalist Krik? Krak! and American Book Award winner The Farming of Bones, among other acclaimed books of essays and memoirs.
The Best American Comics
: Alison Bechdel
Alison Bechdel'scomic strip Dykes to Watch out For was an international sensation. She is also the author of the bestselling memoir Fun Home: A Family Tragicomic, which was named a Best Book of the Year by Time, Entertainment Weekly, the New York Times and People, among others. Her second graphic memoir, Are You My Mother?, will be out in 2012.
The Best American Nonrequired Reading
: Dave Eggers
,with an introduction by Guillermo del Toro
Dave Eggers is the editor of McSweeney's and a cofounder of 826 National, a network of nonprofit writing and tutoring centers for youth. He is the author of six books, including What Is the What, Zeitoun and Wild Things. Guillermo del Toro is the Mexican filmmaker behind the Oscar-nominated 2006 fantasy film Pan's Labyrinth and the Hellboy franchise.
The Best American Travel Writing
: Sloane Crosley
Sloane Crosley is the author I Was Told There'd Be Cake, which was a finalist for the Thurber Prize for American Humor. Her second collection, How Did You Get This Number, finds her riffing on European vacation disasters and doing bridesmaid duty in Alaska.
The Best American Science and Nature Writing
: Mary Roach
Mary Roach is the best-selling author of Stiff, Spook, Bonk, and most recently, Packing for Mars. Her writing has appeared in Salon, Wired, Outside, GQ, Discover, Vogue and the New York Times Magazine.


T
he Best American Sports Writing
: Jane Leavy
Jane Leavy is an award-winning former sportswriter and feature writer for the Washington Post. She is the author of the New York Times bestsellers Sandy Koufax and The Last Boy.


The Best American Mystery Stories
: Harlan Coben
Harlan Coben's last three consecutive novels Caught, Long Lost and Hold Tight all debuted at No. 1 on the New York Times bestseller list and lists around the world. He is a winner of the Edgar Award, the Shamus Award and the Anthony Award.