Have you, like me, ever read descriptions of book buzz panels, and wished you had been in the audience? Want to know more about how books are promoted? Want to just know more about what book clubs should be thinking about?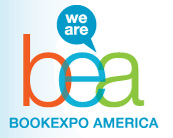 Consider registering for the publishing event
BookExpo America
. BEA is so fun it should be illegal.
I hadn't heard of BEA until I received one of those Friday night email blasts from Bookreporter.com. Last year, BEA offered, for the first time, a book club member rate of $149 for a three day program that looked amazing.
I dithered so much about whether to go that I drove myself nuts. Even as an East Coast resident, a trip to New York is no tiny budget item.
I plunked down the registration fee, signed up for some truly overpriced special events. I booked a great train rate, and found (with the help of the BEA website) a good hotel deal.
I worried whether this little adventure would be "worth it."
On the first day of the program, I approached the Javits Center the way Dorothy neared Oz.
Unlike Dorothy, I found all I wanted and more.
The first event I attended, a book buzz panel, told the tale. I arrived just before the panel was about to start---it appeared someone piled books on the few available seats. I approached, and asked the person sitting next to the seat if the books were hers. "No, they're yours. I have mine." What?
The event was a swirl of great books, and great book ideas.
Breakfasts, lunches, author panels, dinners and receptions, with speakers including Sarah Ferguson, Christopher Hitchens, John Grisham, Patton Oswalt, Condoleezza Rice, Mary Roach, and Jon Stewart.
Wonderful panels, with editors talking about how and why they fell in love with a particular book.
Endless exhibit halls.
It was SO worth it. I'll be going again this year, and hope to see you there.
I have book club ideas to last an eternity, and memories to last as long.
Come to BEA --- it would be a great book club outing! I'll bet you will be as hooked as I am!
Denise Neary is a regular contributor to the ReadingGroupGuides.com Blog. Click
here
for information about
BookExpo America
2011 in New York City.