At Bookreporter.com, we have the opportunity to read many great books well in advance of their release dates. Now, with our Sneak Peek Feature/Contest, we are offering our readers the chance to preview select early picks --- and share feedback on them. We know that readers champion books that they love, and we want you to be part of the excitement of upcoming releases as early as possible.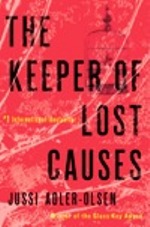 Our latest Sneak Peek Feature spotlights The Keeper of Lost Causes by Jussi Adler-Olsen --- the suspenseful tale of a down-on-his luck detective trying to heat-up a cold case from one of Denmark's leading authors --- which releases in October. We have 50 specially formatted early reader editions to give away to readers who would like to preview the book and share their comments about it. Enter here by Friday, April 1st at noon ET.

We really want to hear what you have to say about The Keeper of Lost Causes, so if you will have time to read it and answer some questions by Friday, April 29th, please enter this contest. If not, we plan to have more opportunities like this in the future.

More about The Keeper of Lost Causes:
The Keeper of Lost Causes, the first installment of Jussi Adler-Olsen's international bestselling Department Q series, features the deeply flawed detective Carl Mørck. Carl used to be a good homicide detective --- one of Copenhagen's best. Then a bullet almost took his life. Two of his colleagues weren't so lucky, and Carl, who didn't draw his weapon, blames himself.

So a promotion is the last thing Carl expects. But it all becomes clear when he sees his new office in the basement. Carl has been selected to run department Q, a new special investigations division that turns out to be a department of one.

-Click here to read an excerpt from The Keeper of Lost Causes.