A no-brainer for our Father's Day Blog series, THE READING PROMISE is Alice Ozma's recent memoir chronicling not only her personal coming-of-age, but the literal promise she and her single-parent father made when she was a child. The tables have turned this month, however, as the father so heavily featured in THE READING PROMISE answers our questions about his daughter, and sheds even more light on their bond.
Photo of Jim, Alice, and their books, taken by Ryan Collerd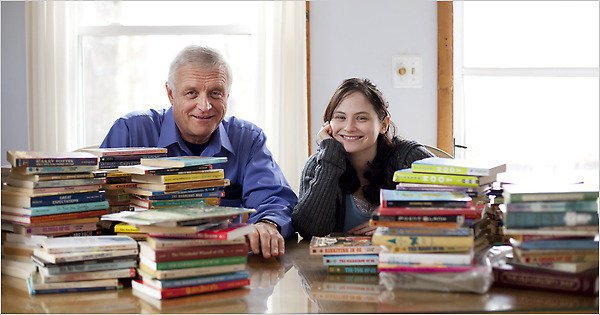 Can you talk about reading to your daughter as a child?

I guess, through Alice, that the up-to-date book buyers of the world know by now that I read to Alice quite often until she was in fourth grade and at that point I proposed we make a reading "streak." As a result of that bargain, I never missed a night of reading to her until her first day at college --- a total of 3,218 nights in a row, by my calculation. We read pretty nearly everything that was in print, hundreds of titles, some up to four times each. I had to read aloud to Alice each night for a bare minimum of ten minutes, and often much longer, each night to fulfill my end of the bargain. No exemptions were allowed to us; each day the reading had to be done.

Did Alice have a favorite series or author growing up?

Alice and I are both partial to the works of L.Frank Baum. He not only authored fourteen Oz books, but many other fantasy titles as well. We became members of the International Wizard of Oz Club because in those days it was much harder to know which Baum books were still available. We both were thrilled as each new title arrived in the mail.

When did you know that Alice was going to be a writer?

Alice used to dictate stories to her mother or I. We were then obligated to print these out on the computer. The vast bulk of her work, which in my humble opinion is quite good, still exists. I kept those papers in plastic bags which now occupy a place of honor in my storage shed over by the pickle jars. She had a poem published in Children's Playmate Magazine while still in elementary school that must have sent their circulation skyrocketing.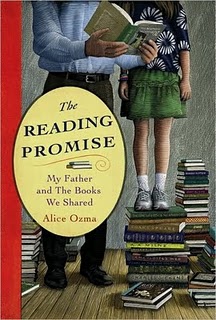 Did you read advanced copies of THE READING PROMISE?

Alice asked me from the get-go not to ever read THE READING PROMISE unless I become terminal and only then, when I reach the last stages of mortality, will I be permitted to page through her work. Her writing, about her formative years growing up with me as a single parent, is too personal, so she says. Still, I would have to say that THE READING PROMISE, second to the Bible, is my favorite book. Not withstanding that I have not read a page of the thing.

Have you ever introduced your daughter to any books as an adult?

Since my taste tends toward books about the life of Elvis Presley, it has been an ordeal to try to bend her into that persuasion. I have at least been able to get her to sing along with me to Elvis' "Suspicious Minds" while she is seated in the back seat of my car.

Do you feel you have directly inspired Alice?

Yes, due to my direct inspiration, she will pick up any worms that are in her path on the sidewalk and deposit them into the grass with exceeding gentleness. It is a habit of mine and I am glad to see that my good works are not lost on her.
I think the drawing of the man on the cover of her book is supposed to be me, but if that was really me, I would have tried harder than that guy did to be holding my stomach in while the artist was at her work.
Would you ever want to collaborate creatively with your daughter?

Well, certainly not in writing a story. My few feeble grade school efforts in that direction had everyone in the story being killed by the end of the second page. On the third page, the "hero" of the story killed himself out of loneliness and boredom. Perhaps I can get her to collaborate creatively on folding up the laundry when I bring it in from the line.