Deborah Cloyed's debut novel, The Summer We Came to Life, is a beautiful story that centers around Samantha Wheland and her best friends of two generations. The relationship between the characters is so vivid that it feels as if the author drew from her own real-life experiences to capture such realism. To give us a sense of how much fiction meets reality in her novel, Deborah sat down with her real-life best friend, Bianca Smith, and Bianca's mother, Lilia, to get their thoughts about friendship, love and The Summer We Came to Life.
Check back next week for Part II!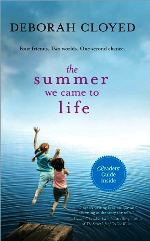 From the author:
Bianca Smith is my best friend, since we were six years old. We grew up down the street from each other and have literally shared every major life moment, good and bad. We spent as much time together growing up as separate. Her mother, Lilia, was a guidance counselor at our high school, and has always been a defining presence in both Bianca's and my life in every way.
Q: People always ask how much of the book is based on real life, and specifically on my real best friends and family. How would you two answer this question?
Bianca: I do think what's so special about the book is the friendship between the girls, a deeper kind of friendship. Like us, they are truly family. We are who we are because of each other. In one journal entry, Samantha says to Mina, "You raised me, for better or worse." I feel that way --- that we have formed each other's stories. As for the details, I seem most like Isabel, but her career, her life in D.C. are all Isabel's, not mine. The relationship between Isabel and her mother are what makes us most similar. My mother didn't marry a Panamanian billionaire, but she was a daring, larger-than-life, free-spirited, strong, amazing woman that raised us both --- you and me, Debbie --- with the same attitude that anything is possible with a little elbow grease, grit, and laughter (and maybe a martini or two). The book captures the spirit of our friendship, a lifetime of adventures, ups and downs, and everything in between.
Lilia:The book is a conglomerate of people, events, feelings, and situations that began in the Shadwell neighborhood in Virginia. The adventures continued as you girls traveled, studied and internalized global ideology. I would say that 50% of the book is based on real life.
Deborah: It's a fascinating thing that happens when you're writing fiction. You have all these pieces --- your favorite things about your best friend, some relationship dynamic you wish you understood better, a quirk of a stranger on the metro that catches your eye and snags in your mind. And then you have this idea for a story that you can't let go. What if my best friend, my anchor in the world, died? Where would all that love and friendship and the echoes of memory go? How could I possibly cope? Plus, everything you write is colored by the stage of your life. What I wrote in my twenties was intrinsically different than what I write now and from what I will write in my forties. I believe writing fiction is inescapably tied to our lives, our loved ones, and our worldview, but that there are two equally present presences we tap into: 1) the creative power of imagination, and 2) the collective unconscious of the world that fills our characters with life, volition, and purpose.
Q: What do you both think the book says about the modern world of dating? How are dating, love, and romance different or the same as the days of our mothers?
Bianca:
Very different. Certainly the fact that women don't get married so young. It's a luxury to wait, to have more freedom to discover ourselves, become established in our careers. It's also a big difference between generations that there are so many more options now --- in our group of friends alone: National Geographic film editor, fashion executive, actress, painter, jewelry designer, fashion photographer, hotel manager, chef. By waiting, we're better able to know ourselves, and therefore find/pick a better match. On the flip side, since women do it all, we've created a culture where men can be boys forever.
Lilia:
Dating is very different in this modern world as exemplified by the trouble that girls have in their search for "real love." All the bright, beautiful, successful girls want the "whole enchilada" but they are not willing to give up their "true selves." They will not sell their souls to the devil no matter how enticing he may be.
Although, keep in mind (a point made) in the book: while some of the parents found lasting love, they too had a difficult romance/dating period... i.e. Mina's parents had an arranged marriage; Jessie took off with a Latin lover without knowing what she was getting into; and there was the interracial relationship between Lynette and Cornell that, to date, remained unresolved. Romance and dating have never been easy.
Deborah:
I was writing the book when I was single and in a similar life phase as Samantha --- flittering about the world, finding myself and in search of adventure, love, and laughter, but not marriage. When I moved back to Los Angeles, a lot of my friends were unhappy with the dating scene. I guess I was thinking about the things that Bianca and Lil have pointed out --- the pros and cons of women's empowerment, the tricky balance between dependency and independence in any modern relationship.
Q: In the book, Samantha's true family is the extended net of her best friends and their parents. Lil, you are in the book's dedication as "mi segunda madre," my second mother. Growing up down the street, I've spent nearly as much time at your house as at my parents' house. Do you feel like me --- that we are truly family?
Lilia:
Absolutely, I have loved watching you and Bianca grow. You two have been the yin and yang (one does not exist without the other). Both of you, only daughters, bonded as sisters from the day you met. I have followed your triumphs, your joys, your adventures. I have always admired your spunk and your risk-taking spirit. I feel like I've been a cheerleader along the way --- always ready to facilitate whatever adventure you undertake, i.e. The Amazing Race, this book. You have given me great joy. And I do think of you as "mi segunda hija." Xoxo
Deborah:
Certainly you were my inspiration for Jesse in a roundabout way. I cannot imagine being the same person without you in my life. That is what I meant by the idea of an "unlikely family" in the book. Adulthood means figuring out who you are apart from the people who raised you, and you did help raise me. Your adages, your beliefs, your words ("No moping, we just gotta keep going, Debbie!") bounce around in my head, they color how I look out at the world, the decisions I make. And besides that, I adore you. I cannot, nor would I want to, imagine a childhood or a world without you.
Q: The childhood memories, the flashbacks to the dock, and the sliver that Mina recreates --- are based on a real place. Can you talk about the significance of the lake house, Bianca? How do certain locations never leave your consciousness as an adult?
Bianca:
Definitely, the lake house is forever etched in my memory --- magical moments from the time we were little girls --- eating Twizzlers during a summer thunderstorm, watching Dirty Dancing for the 100th time, double skiing at sunset when the water was like glass with steam rising around our ankles, getting lost on a hike with Debbie's father and her mom later tweezing seventeen ticks from unmentionable places, to the time we were older, debating boyfriends and going off to college. Like the book, the lake house is a safe haven in our minds, a slideshow of happy times that calm us, bring us peace, and remind us who we are, and what and who is really important --- simple pleasures, living in the moment, friendship, accepting yourself, and trusting that life is as it should be.
Q: You two have known me since I was six years old. Bianca, I always say that you are the only person who ever told me, "You are going to be a writer." How do you feel about watching the publication process?
Bianca:
I'm so happy that other people are starting to give you the recognition I always thought you deserved for writing, since fifth grade when you wrote my first campaign speech for school government! I've always relied on you to help me find the right words --- from editing break-up letters to helping me with my business now. Writing takes a lot of hard work, perseverance, and believing in your dreams even when other people didn't.
Lilia:
I can tell you one thing --- Bianca wasn't the only one who believed you were going to be a writer. Your creative writing teacher, Cathy Hailey, saved one of your first journals because, in her words, "I always knew she was going to be a published writer."