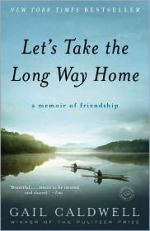 Earlier this summer, TheBookReportNetwork president Carol Fitzgerald was interviewed about Gail Caldwell's touching, emotional memoir Let's Take the Long Way Home: A Memoir of Friendship. Her interivew, along with those of some other guests including The Middle Place author Kelly Corrigan, were edited together to form a wonderful video tribute about this moving story and it's message of friendship through thick and thin.
-Watch the video here.
-Read the Bookreporter.com review here.