Patti Callahan Henry is not only a married mother of three, but also a New York Times bestselling author of eight novels, including Between the Tides and Driftwood Summer. Hailed as a fresh new voice in southern fiction (though she is originally from Philadelphia), her latest book, Coming Up for Air, is about a house on the coast of Alabama --- a place that reveals the truth and changes the lives of Ellie Calvin and her loved ones. Bookreporter.com's Bronwyn Miller spoke with Patti about the generation gaps between her characters and how she balanced several storylines in different time periods, such as the early days of the Civil Rights movement. She divulges her organic writing style, how motherhood has influenced her work and also kept her grounded in the "metaphorical dirt of real life," and why her books appeal to so many avid readers of southern fiction.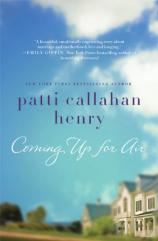 Bookreporter.com: Congratulations on the publication of Coming Up for Air, your eighth novel! How did writing this book differ from your first, Losing the Moon?
Patti Callahan Henry: Each book I write, I "Begin Again," forgetting that I know how to write an entire novel --- that hasn't changed at all through all eight novels. The panic remains. But the one thing that has changed --- I feel more confident in the way I say things. In writer-speak, I mean that I feel as if I've found my "voice," and in Losing the Moon, I was digging into the soil of my words to find "that way."
BRC: In Coming Up for Air, Ellie, her mother, Hutch, Cotton, Birdie, and most of the characters are dealing with regret and worry over whether they've made the right decisions in their lives, and their struggles make them so relatable. What is it about regret that everyone can relate to?
PCH: When crossroads appear, we tend to look to the past to discover how we reached that place in our life. We ask, "How did I get here?" and we sometimes find regret. I believe we all have our "road not taken." We've all made choices that had more to do with the expectations of others than with a desire of our own. Tapping into this universal truth makes a character more relatable, I think.
BRC: In the novel, we get to see different generations, from Ellie and her complicated marriage to Rusty and feelings for Hutch, to Lillian's secret love from the summer of '61, to Birdie and Cotton. Was it challenging to balance several storylines in different time periods?
PCH: Yes, honestly it was difficult. This book took me a long time to write, and I think it was not only because of the subtlety of the emotions, but also the overlapping storylines. Each individual woman's story influenced the other, and exposing secrets had to be done at just the right time. But I truly loved every minute of digging through these timelines. My research and the characters' emotions began to overlap and form a story that felt like it began to unfold on its own.
BRC: Through her conversations with Birdie, Micah and Cotton, Ellie learns about the tumultuous times in Alabama during the early days of the Civil Rights movement. How did you go about researching that time period?
PCH: This research began as just one event (The Freedom Riders) and ended with a pilgrimage to Montgomery, Alabama, where I needed to see the sites in person. I just moved to Birmingham, Alabama, after 26 years in Atlanta, and the history of the Civil Rights movement began to wiggle its way into my heart. We all know the "facts," but what about the story? The echo of those harrowing times still reverberates through families and individuals, and I wanted to show a very small piece of that truth.
BRC: Through her mother's journal, Ellie learns about Lillian's secret love and her activism, a part of her life she never spoke about. If your children were to read your journal years from now, what might they discover about you that they didn't already know?
PCH: I've instructed my children to burn my journals upon my death. Okay, not really. But I'm a pretty open book --- which is both a good and bad thing. They wouldn't find a "secret" I've kept hidden, but I think they would find a woman who is a bit more complex than they imagine at the moment. To my kids, I am Mom who keeps the house and life running and who sort of writes books on the side. I think they will be surprised to see how obsessed I am with story and finding just the right word to say just the right thing.