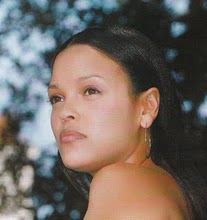 Jesmyn
Ward, author of SALVAGE THE BONES
, grew up in DeLisle, Mississippi. She received her MFA from the University of Michigan
, where she won five Hopwood awards for essays, drama, and fi
ction. A Stegner Fellow at Stanford from 2008 to 2010, she is currently the Grisham Writer in Residence at the University of Mississippi. Her debut novel, WHERE THE LINE BLEEDS, was an Essence Book Club selection, a Black Caucus of the ALA Honor Award recipient, and a finalist for both the Virginia
Commonwealth University Cabell First Novelist Award and the Hurston/ Wright Legacy Award. Here she talks about her experience during and after Hurricane Katrina, and how the disaster helped inspire her new novel SALVAGE THE BONES.
The conception of SALVAGE THE BONES took a long time. One of the reasons for this is that there were two different characters and one idea I wanted to write about, and it took some time for the three to coalesce. The first character who grabbed my attention was Skeetah, and by extension, China. I discovered them in a writing exercise based on Faulkner, and I knew that I wanted to spend more time with them. They fascinated me. This sweaty, misguided boy and the strange love he harbored for his beautiful, brutal dog intrigued me. But I couldn't figure out how to spend more time with them so I put all my exercises and one abysmal short story I'd written about them aside while I devoted most of my time to revising my first novel.
After I was done revising my first novel in 2007, I needed to work on something else. I've learned that I'm a happier, better person when I'm writing, and since writing is generally something that I hope to get better at as I do more of it, I wanted to tackle another novel. I had been casting about for ideas for at least two years, and I vaguely knew that I wanted to write a novel about a girl who grows up in a world of men. This girl, who would later become Esch, was the second character whose experience I wanted to explore. Part of this was motivated by the fact that my first novel was a love letter to teenage boys who are coming of age, and I wanted to write about what that process might be like for a girl from a small rural Mississippi town.
During these mulling years from 2005 to 2007 when I wasn't getting any new writing done, I was also experiencing the aftermath of Hurricane Katrina. I was attempting to process my own experience of living through the storm. That storm stunned me into silence for a couple of years, I think. The devastation, so complete and ruthless, hurt. The landscape I'd loved was irrevocable changed: Many of my family and friends were evacuated by FEMA after the storm and settled in unfamiliar cities around the country. There was something so dismissive about the hurricane's fury, as so much of what I'd loved was taken away. This quelled my voice.
But then I saw people rebuilding on the Mississippi Gulf Coast. I saw them beginning with nothing and making something. I saw the landscape rise again, inch by inch, to lush prominence again. Witnessing this made me want to write about the hurricane, to write about survival, to speak up to add my voice to the chorus that said, Hey, we live. We're alive. And because I was already committed to writing about the teenage girl who would later become Esch, who is such a fighter and survivor, it was a nice realization when I thought, Of course.Of course this deceptively small, weak girl would stand against this hurricane. But Skeetah and his blinding white dog still lurked, so it was a happy accident when I sat in front of my computer to begin at the beginning and thought, They are brother and sister, and they stand together.
I fell in love with them as I was writing the novel. Now it feels like such an honor that they've found an audience in the outside world, beyond the page, that they can tell their story to the reader and say, Hey, we live. We're alive.
Read more about Jesmyn Ward and SALVAGE THE BONES on the author's website: http://jesmimi.blogspot.com/