While we were going through submissions for our "What's Your Book Group Reading This Month?" Contest, we were struck by some of your interesting book group names! One that caught our attention in particular was the "Armchair Travelers Book Club" --- we were inclined to take their name literally, and wondered whether or not all their books had to do with traveling. Member Mary Lee Olson was kind enough to enlighten us and share with us the origin of her group's name and some of the great books they've read and plan to read in the future.
---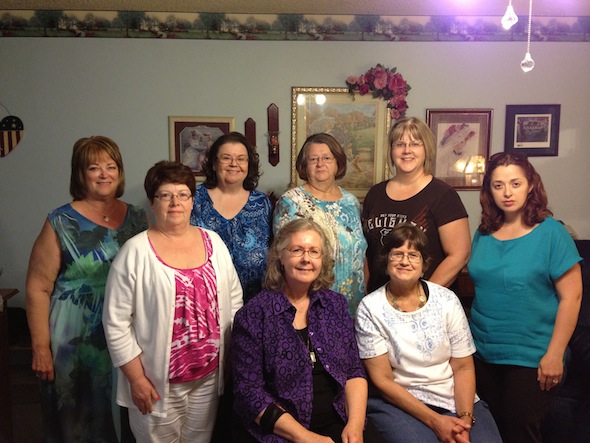 Members of the Armchair Travelers Book Group (left to right) with author Stephanie Grace Whitson center: B-Connie Hansmeyer, Joy Schrader, Mary Lee Olson, Sarah Fuller, Lisette Gilster, F-Mary Lowery, Stephanie, Terry Teachman
The name "Armchair Travelers Book Club" was suggested by member Joy Schrader, along with about 18 other suggestions from the rest of us! Those were narrowed down to the top five favorites, and when the results were tabulated "Armchair Travelers" was born. Joy and her late husband loved to travel and those travels were usually inspired by a book they had read. As Joy said: "Just as travel can inspire and change you, books can absolutely do so too!"
Despite what our name suggests, we do not read just travel-themed books. We read to be inspired, educated, push our personal thresholds of likes and dislikes and become fans of new authors and genres. Terry's favorite genre, for example, is history and historical fiction. Joy enjoys mysteries and has been slowly introducing mysteries to the group. I like a variety of genres and have only found two books in the last 31 months that I simply could not finish!
The books that have led to particularly great discussions were Gregory Maguire's WICKED, Wendy McClure's THE WILDER LIFE, Cheryl Strayed's WILD, Khaled Hosseini's A THOUSAND SPLENDID SUNS, Markus Zusak's THE BOOK THIEF, Yann Martel's LIFE OF PI and Domingo Martinez's THE BOYS KINGS OF TEXAS.
Not everyone has loved every book. WICKED was both loved and hated, and one person felt reading the book spoiled her memory of the The Wizard of Oz. I have to agree it was not a favorite of mine. For a few months we had a male member join our group. He picked THE BOY KINGS OF TEXAS for his month. This book was strongly disliked by the majority of the group. The gentleman was Mexican and had recently been discharged from the Navy. I wondered afterwards if he could more closely relate to it than the rest of us. [Editor's note: It just goes to show you that a book doesn't have to be universally beloved to make for good group conversation. Sometimes, the more divisive the better!]
My personal favorite was MESSAGE ON THE QUILT by Stephanie Grace Whitson. I read all three of her Quilt books and then went back and found others she had written. I grew up in Custer County, Nebraska and one series of books was set there (give or take a little). She lives here in Lincoln, NE and I asked her to come to our book club as a guest and she did! We all enjoyed meeting her and asking questions about her books, writing style, research, etc. She also brought some of her older books as giveaways --- what fun!
Our book club currently has 12 members. We've grown from five to 12 members in the last couple years. Our membership ages run from 35 to approximately 65. The book club started with all its members from Capital City Christian Church. Our membership now comes from several churches and "friends of friends," and our book selections have subsequently become more diverse.
I think we have been together since August 2011 and we meet year round. About every six months we choose books for the next six months. This is done by someone volunteering to be the discussion leader and that person chooses the book to be read. We usually meet in the discussion leader's home. We also have a summer cookout, a Christmas Tea and, starting this fall, a Soup Night.
The last 20 books we have read are:
THE FAULT IN OUR STARS by John Green

WILD: From Lost to Found on the Pacific Coast Trail by Cheryl Strayed
A THOUSAND SPLENDID SUNS by Khlaled Hosseini
EVIL UNDER THE SUN by Agatha Christie
WHAT ALICE FORGOT by Liane Moriarty --- another favorite!
HOME FRONT by Kristin Hannah --- another favorite!
THE BOOK THIEF by Markus Zusak
LIFE OF PI by Yann Martel
THE TENTH CIRCLE by Jodi Picoult
THE SUBMISSION by Amy Waldman
WICKED by Gregory Maguire
CALLING INVISIBLE WOMEN by Jeanne Ray --- great read!
THE VIOLETS OF MARCH by Sarah Jio
ANGELA'S ASHES by Frank McCourt
MESSAGE ON THE QUILT by Stephanie Grace Whitson
WINSTON'S WALK by Jo A. Peterson --- the first in a series, sure wish she'd get the next one done!
THE GIVER by Lois Lowry
ME TALK PRETTY ONE DAY by David Sedaris --- one of the two I didn't finish
THE PRAYER BOX by Lisa Wingate
MAGI by Dan Gilbert
THE BOY KINGS OF TEXAS by Domingo Martinez
THE WILDER LIFE by Wendy McClure
I had to include 22 books here because of a story I have to tell about this selection. The last book, THE WILDER LIFE, was my selection because anything written about Laura Ingalls Wilder by a self-professed lover of Laura should be good, right? I especially liked the idea of her attempting to recreate the travels of a beloved childhood author. Everyone HATED this book and I felt horrible, as I had finished it long before everybody else did! So in an attempt to salvage something for the month I checked out everything I could find that was written about Laura Ingalls Wilder and referenced in THE WILDER LIFE, and set up a display of all these books. Then, as the hostess, I found some recipes in a couple of the books referenced by Wendy McClure and served those to the book club. It wasn't a total loss as a selection, but I've learned my lesson --- don't suggest a book unless you've already read it!!
The next books up are UNBROKEN by Laura Hillenbrand, THE LIGHT BETWEEN OCEANS by M.L. Stedman and MRS. LINCOLN'S DRESSMAKER by Jennifer Chiaverini. I think the next book I'm going to choose is DELIA'S SHADOW by Jaime Lee Moyer. I haven't read the next book in this series, but am hoping to soon.
Sorry for being so long-winded! Books are a passion and obsession --- you should see my house! -- and I tend to ramble on and on when talking about them! As I mentioned earlier, I also picked the brains of Terry and Joy, as they've been members of this book club longer than I have. I am enclosing a picture of our group with Stephanie Whitson, just because I thoroughly enjoyed that evening!
Thanks!

Mary Lee Olson
Lincoln, NE