Last week, Carol Fitzgerald, President of The Book Report Network, was invited to join members of The League, a New York-based book group, as they met with author Daisy Goodwin and discussed her latest book, THE FORTUNE HUNTER. The event was hosted by St. Martin's Press, and was a wild success: "an easy, fun night." Here, Carol shares her thoughts on the experience, including some insight into Daisy's writing process, The League's book group background and feedback from the group about the book! Make sure to read all the way to the end to see The League's past reading list, as well as their "Reading Bank," a list of books that are suggested by members for more reading.
---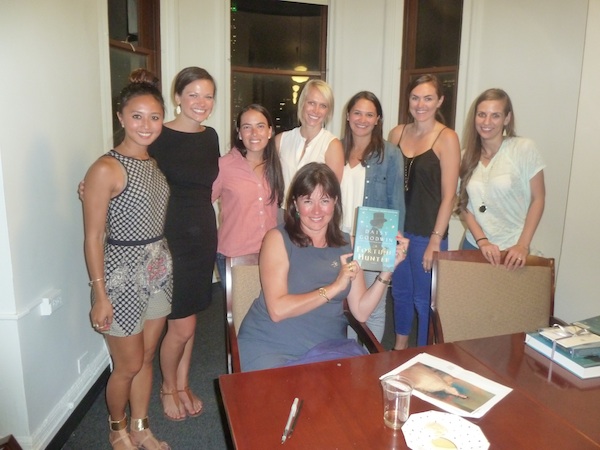 Members of The League (left to right) with Daisy Goodwin seated in front: Tracy Dungo, M.C. Kiselick, Jaime Petkanics, Sara Bryant, Maggie Porges, Bevin Kenny, Carolina Aguilar
Last Tuesday night I happily joined members of The League Book Group as they met with Daisy Goodwin at St. Martin's Press' offices at the Flatiron Building for a discussion of
THE FORTUNE HUNTER
. Each of the seven attendees had been sent a copy of the book in advance and they clearly were excited about speaking with Daisy.
Jamie Dennison, who was unable to attend at the last moment, gave me some background on the group. "The core of our group was originally women who attended Hamilton College together and graduated in '07, '08 and '09, but we've grown to include friends, siblings, and friends of friends, ranging in age from 24-29 years old."
After some quick mingling with snacks that St. Martin's had provided --- including wine, cheese, fruit and various desserts --- and checking out the view uptown from the Flatiron 's iconic point, Daisy opened the evening by sharing some background on her research and writing of THE FORTUNE HUNTER.
Daisy was intrigued about Sisi since she had been given a board puzzle about her when she was a child. The image of the woman in the puzzle stayed with her. She felt comfortable writing about the late 1800s and early 1900s. This was a fascinating time, full of both passion and constraints. She wanted to look at how women got around and the things they did --- and also the things they did not want to do but were told they must. This was a time when women were first finding their voices. Her character, Charlotte, with camera in hand, was telling stories through photos. This was the first time people were able to see themselves beyond looking in mirrors.
We talked about how each of the characters was looking for acceptance. Bay, for the acceptance of women; Sisi, for her looks and to be perceived as young and beautiful; Charlotte, for being a good photographer and for living outside the lines of conformity. Each character has a measure of insecurity.
While I never had thought about riding as sexy, when Daisy spoke about skintight costumes (as
she calls it "the 19th century version of Lycra") and men and women racing through the fields together that imagery was a lot more profound. She can see why people do it as "the blood is up" and it is sexy. Daisy herself rides, but does not hunt.
One book group member asked if there is ever a time when Daisy needed to step away from researching and say, "I have enough." Daisy said there is definitely that moment when you need to stop and just tell the story. Either that or you can become mired in endless details that make you look smart, but bore the reader. In fact, writing Charlotte was easier than writing Sisi or Bay, as there was less known about her.
Off the book topic there was some fun chatter about the royals and the monarchy in Britain, all the more fun for hearing the stories told with Daisy's lovely accent. In a moment of humor there was some banter that the Queen Mother and her tribe are a lot more interesting than the Kardashians!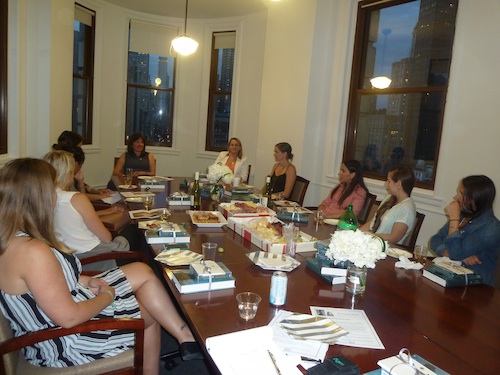 Daisy added a tidbit that Sisi was murdered in a random killing in 1898, when she was stabbed to death by an Italian anarchist who wanted to kill Prince Philippe, Duke of Orléans, but instead killed Sisi just because she was there.
Daisy in her other life is a television producer in the UK and in her books she can write details that aren't dependant on big budgets or difficult scenes to shoot. The imagination is a lot more free on the page.
Her last book, THE AMERICAN HEIRESS, came out before "Downtown Abbey" was first aired. When the show came out and she saw the character or Cora shared a name with her own protagonist it was a fun moment!
Daisy also spoke about editing. She said that no book is ever truly done for an author; there is always some edit you would make upon re-reading it. When she started THE FORTUNE HUNTER, she was writing from a different angle and got stuck, and then reworked it to get to the story we are reading today.
To our great amusement, Daisy commented that "her work was done" when the members of The League told her they found Bay to be sexy!
The group was so engaged in the discussion that questions were easy to come by and there was no downtime in the conversation. Daisy was personable, funny and it felt like a friend was sitting at the other end of the table. It was an easy, interesting night! I appreciated The League allowing me a seat at the table to share their evening.
In an email after the event, Jamie gave me some more details about how their group typically runs, including an efficient way that they handle the wine!:
"We meet once a month on the first Wednesday of the month. At 7:30 pm we start our meetings and you can come for what we call "catch-up," where we get all the gossip, and life catching up out of the way. Discussion starts at 8:00 pm. Typically we meet at one of the group member's apartments, though we have been known to host what we call "book club night out," where we meet at a bar or restaurant, often in addition to our regular monthly book meeting.
The host for the monthly meeting is responsible to provide light snacks. In exchange for hosting, she gets to choose three reading selections, which we then vote on as our read for the next month. At the next meeting, she is responsible to bring reading/discussion questions and sometimes a quick author bio to help get our discussion going and keep us on track.
The members are divided into three wine groups, and each month a new wine group is responsible to bring wine to the meeting for all to share. Overall, it's highly cost effective as you bring a bottle of vino once every three months, and maybe provide snacks or light dinner once a year. After each meeting I send a quick recap email noting what we discussed, any new business, and what our read is for the next month. The email chain usually grows as the month progresses with comments, feedback, new/interesting info for the group, so that's why I like to start a new email chain each month.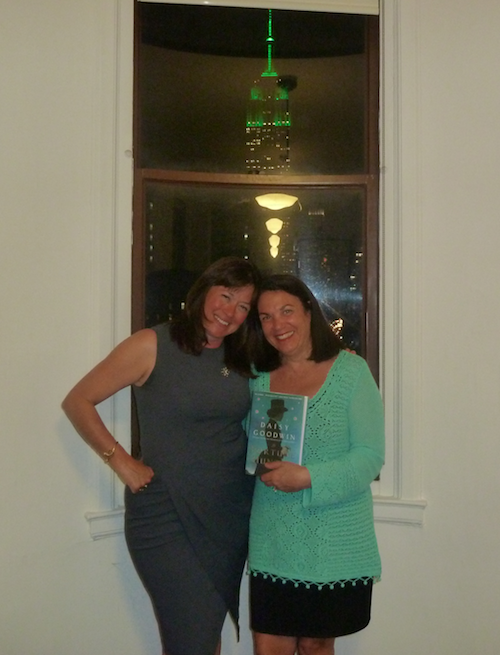 The League started in September of 2012 and has been going strong for coming up on two years! We started because we had been swapping a lot of the same titles all summer, and by the end of that summer came to realize many of us had read or were finishing up GONE GIRL. Our inaugural book will forever hold a special place in our hearts and we can't wait for a book club night out at the movies this fall when it comes to the big screen.
The group ebbs and flows in terms of participation levels, but we always have a monthly read and it's been relatively easy to maintain. Members have come and gone but the core has remained strong. Our only other rule is you can come to a meeting even if you haven't finished the book but in coming you may hear some spoilers, and if you haven't finished more than half the book, you can't vote for next month's read. It's an honor system and it's meant to encourage you to read new genres so you can help influence our next book choice.
Below are our previous reading lists thus far so you can see what we've read and also what we've stashed in our "Reading Bank" as suggestions for those even more voracious readers."
Book Club Reading Bank & Finished Reads - Year 1: 2012-2013
Book Club Finished Books
GONE GIRL by Gillian Flynn
WHILE THE WORLD WATCHED by Carolyn Maull McKinstry
BRIGHT SHINY MORNING by James Frey
THE LOST WIFE by Alyson Richman
ONE THOUSAND WHITE WOMEN by Jim Fergus
WHERE'D YOU GO, BERNADETTE by Maria Semple
LOOKING FOR ALASKA by John Green
THE DINNER by Herman Koch
THE KITCHEN HOUSE by Kathleen Grissom
RECONSTRUCTING AMELIA by Kimberly McCreight
AND THE MOUNTAINS ECHOED by Khaled Hosseini
THE INTERESTINGS by Meg Wolitzer

Book Club Reading Bank 2012-2013
THE ROSIE PROJECT by Graham Simpson
THE INTERESTING by Meg Wolitzer
SCHROEDER by Amity Gaige
THE LOVE AFFAIRS OF NATHANIEL P. by Adelle Waldman
THIS IS WHERE I LEAVE YOU by Jonathan Tropper
A VISIT FROM THE GOON SQUAD by Jennifer Egan
UNORTHODOX: The Scandalous Rejection of my Hasidic Roots by Deborah Feldman
UNBROKEN: A World War II Story of Survival, Resilience, and Redemption by Laura Hillenbrand
11/22/63 by Stephen King
BACK TO BLOOD by Tom Wolfe
RULES OF CIVILITY by Amor Towles
FATAL VISION by Joe McGinnis
MY FRIEND LEONARD by James Frey
A MILLION LITTLE PIECES by James Frey
THE RED TENT by Anita Diamant
THE PERKS OF BEING A WALLFLOWER by Stephen Chbosky
Book Club Reading Bank & Finished Reads - Year 2: 2013-2014
Book Club Finished Books
BEAUTIFUL RUINS by Jess Walter
CRAZY RICH ASIANS Kevin Kwan
WAR BRIDES by Helen Bryan
THE HUSBAND'S SECRET by Liane Moriarty
HEADS IN BED: A Reckless Memoir of Hotels, Hustles, and so-called Hospitality by Jacob Tomsky
PLAN B by Jonathan Tropper
YOU SHOULD HAVE KNOWN by Jean Hanff Korelitz
THE ODESSA FILE by Frederick Forsyth
THE FORTUNE HUNTER by Daisy Goodwin

Book Club Reading Bank 2013-2014
THE ELEGANCE OF THE HEDGEHOG by Muriel Barbery
AFTERWARDS: A Novel by Rosamund Lupton
THE STILETTO NETWORK by Pamela Ryckman
ORPHAN TRAIN by Christine Baker Kline
THE FEVER by Megan Abbott
SHARP OBJECTS by Gillian Flynn
LEAN IN by Sheryl Sandberg
THE BURGESS BOYS by Elizabeth Strout
SHINE, SHINE, SHINE by Lydia Netzer
& SONS by David Gilbert
THE LANGUAGE OF FLOWERS by Vanessa Diffenbaugh
THE AGE OF MIRACLES by Karen Thompson Walker