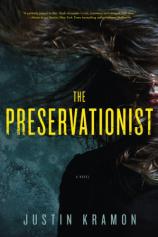 Last October, we gave 100+ book groups the chance to win a copy of THE PRESERVATIONIST and have author Justin Kramon personally visit their group's discussion. We heard from many of you that the book was great and Justin was an absolute delight. Here, Justin shares his experience group-hopping across the country; it seems he enjoyed you as much as you enjoyed him, even if no attempts at kidnapping were made! Make sure to scroll all the way down to see some photos from Justin's travels. And click here to check out reader Valerie Giambona's blog post about Justin's visit to her book group.
---
This past year, ReadingGroupGuides.com and my publisher, Pegasus Books, were intrepid enough to inflict me on about 100 book clubs across the country, each of whom had won a copy of my book and an offer (threat?) for me to personally visit their book club meeting.
When I first told a friend about the visits, she said to me, "Aren't you scared?"
"You mean because of all the traveling?"
"I mean, because of potentially getting kidnapped. You read MISERY. You don't know who these people are."
"They don't know who I am. They could be in for the most awkward 90 minutes of their lives. I think it's a little presumptuous to assume they'd want to kidnap me afterward."
In actuality, not a single kidnapping attempt was made. Over time, this can take a toll on one's self-esteem. I enjoyed spending time with these readers, and I thought they might at least make a gesture toward forcibly detaining me.
But maybe I'm old-fashioned. In any case, the visits were a different kind of thrill. I met readers in 15 states, from rural to urban places, from ages 19 to 97, and was privileged to get to talk to all of them about our common love, books. Again and again, I was intrigued, moved and buoyed by the perceptiveness and humor of their reactions to my book and to other books. I heard funny stories of the power going out while discussing ROSEMARY'S BABY, or an author who had visited and stayed so long the host had to politely mention she was going to bed; I heard about favorite and least favorite books; I heard about members who had survived cancer and others who had not; I saw scrap books of trips a club had taken to the homes of famous writers from previous centuries; I ate Cincinnati chili and seafood on the North Carolina coast and local specialties from West Virginia, among others; and I had the chance to catch a glimpse of the way literature can be a meeting place for a community.
So I returned home tired, fatter and heartened by these visits. Going around to talk to people about your book can be a lonely enterprise, and I owe these clubs a huge thanks for making the whole experience a lot more hopeful and fun.
PHOTO GALLERY