A few weeks ago, author Jamie Brickhouse joined Jennifer Ferguson and her group for a discussion of his memoir, DANGEROUS WHEN WET. Jennifer was kind enough to share some of the highlights of the evening, including some of the topics her group discussed with Jamie, how having the author at their meeting changed the conversation (for the better!), and why DANGEROUS WHEN WET works so well for book groups. She even shares tips for making the most of an author visit. And scroll all the way down to see a photo of Jamie and the group.
---
ReadingGroupGuides.com: Tell us a little bit about your group.
Jennifer Ferguson: There are about nine people in our group, but we sometimes have special guests in the form of partners, siblings or friends who are in town or interested in the book [we are discussing]. Our group meets once a month or every other month depending on schedules. We rotate meeting at each other's homes so we all have a chance to host.
RGG: What are some of the books you've read recently?
JF: We have read CRAZY RICH ASIANS [by Kevin Kwan], THE HUSBAND'S SECRET [by Liane Moriarty], TELL THE WOLVES I'M HOME [by Carol Rifka Brunt], IRIS HAS FREE TIME [by Iris Smyles] and [Jamie Brickhouse's] DANGEROUS WHEN WET. Currently, we are reading THE GIRL ON THE TRAIN [by Paula Hawkins].
RGG: Your group was recently joined by Jamie Brickhouse, whose memoir, DANGEROUS WHEN WET, was published last spring. Can you share how your group connected with Jamie?
JF: Terence Noonan, our book club founder, got Kevin Kwan to attend our inaugural book club after we read CRAZY RICH ASIANS. Terence tweeted at Kevin that we would love him to attend and he tweeted back. Which shocked us, but absolutely thrilled us, too. It was so much fun to have the author be part of the discussion of the book; ever since, we have been on a quest to get the authors to attend and elevate our book club discussions! Terence has known Jamie for a while through the entertainment and publishing world, so Terence suggested we read the book and invite Jamie to come and discuss it with us. We couldn't pass up an opportunity to host another author!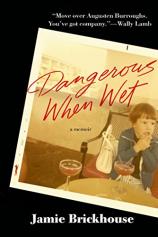 RGG: DANGEROUS WHEN WET is the hilarious and poignant true story of Jamie's struggle with alcoholism, but it's also something of an ode to his larger-than-life mother, Mama Jean. Could any of the group members identify with Jamie's story?
JF: I think that everyone can identify to a part of Jamie's story. While Mama Jean was often over-the-top, I think most of us have parents who we wanted to please --- and some who are very big and dominant personalities.
RGG: What was it like discussing something so personal with Jamie?
JF: He was very, very open, and we all felt that right away, so it was pretty easy considering some of the topics felt quite personal.
RGG: What were some of the other topics you discussed with Jamie?
JF: [In addition to] Mama Jean and her influence on Jamie, as well as her accomplishments as a successful female business person in the '70s, we discussed growing up in the South, growing up gay in the South, Michael Haze's commitment to Jamie and their relationship, alcohol and substance abuse.
RGG: Did you come away from your discussion with any new insights into the book?
JF: Yes, I think we saw Mama Jean a bit differently once we really dissected and acknowledged her career trajectory, and we also viewed Jamie's dad differently after he shared some new information about him. The book really focused on Mama Jean, but his father was very influential and supportive of him, too.
RGG: Do you think the book works well for book groups? If so, why?
JF: Yes, because there are so many hot button topics to discuss; it really forces you to be open-minded. I also think that everyone can relate to pieces of it because most families are messy and complicated, but still quite loving. It is never black and white, and there is great comfort in that notion.
RGG: What suggestions do you have for book groups who have an author join them at their meeting?
JF: Having an author in attendance can seem intimidating, but it really forces you to be very present in the discussion and can lead to some interesting insights you may not have had without the author present. I think it is a great way to see the book in a different, sometimes unexpected, way. And it is always fascinating to hear how the story started in the author's head and how he or she got to the end product.
(The group and Jamie. Top row, from L to R: Jennifer Ferguson; Terence Noonan; Jamie Brickhouse; Steve Ferguson. Bottom row: Stacy Rader; Jamie Rader; Brooke Kalick; Liz Parker.)