September is always a big month for new releases and this year has been no exception. This week, I had the pleasure of attending two book launches for some of this season's most highly anticipated books. In my time in publishing, I've found that book launches are a terrific way for readers to interact with authors and get a behind-the-scenes view at how books are written and published. Best of all, readers can even hear their favorite authors read their work aloud and --- if they're lucky --- even snag a signed book or two.
On Tuesday night , I made the trek to Powerhouse Arena for Salman Rushdie's book launch for TWO YEARS EIGHT MONTHS AND TWENTY-EIGHT NIGHTS. Set in the near future, Rushdie's latest book blends history and mythology for a spellbinding tale of the descendents of Dunia, a jinn princess. As her children awaken to their ancestry, they join an epic war between light and dark spanning 1,001 nights --- the exact number of nights referenced in Rushdie's lengthy title.
Given Salman Rushdie's rather stunning career, I was not surprised to see that his book launch was packed. Rushdie took the crowd in stride, cracking a joke as soon as he hit the podium and quickly diving into a reading from his new book. The audience was absolutely riveted as Rushdie transported us to a world of mythical jinn and thwarted love. It was wonderful to hear his work in his voice, especially given his lovely accent.
Following the reading, Rushdie opened the floor to questions, which he answered honestly, succinctly and, above all, charmingly. Rushdie discussed his decision to use the third person, some of his favorite mythological tales and the importance of terra nostra, but it was his argument against self-censorship that earned a thundering applause. When asked if he believed authors should censor their works, he remarked "No! You either write your books or you don't write your books, but if you're going to write, write your damn books." Censorship, he explained, is even worse than being a bad writer, because it is a choice you make against your work rather than for it. For an author with such a controversial career, it was the perfect closing statement.
---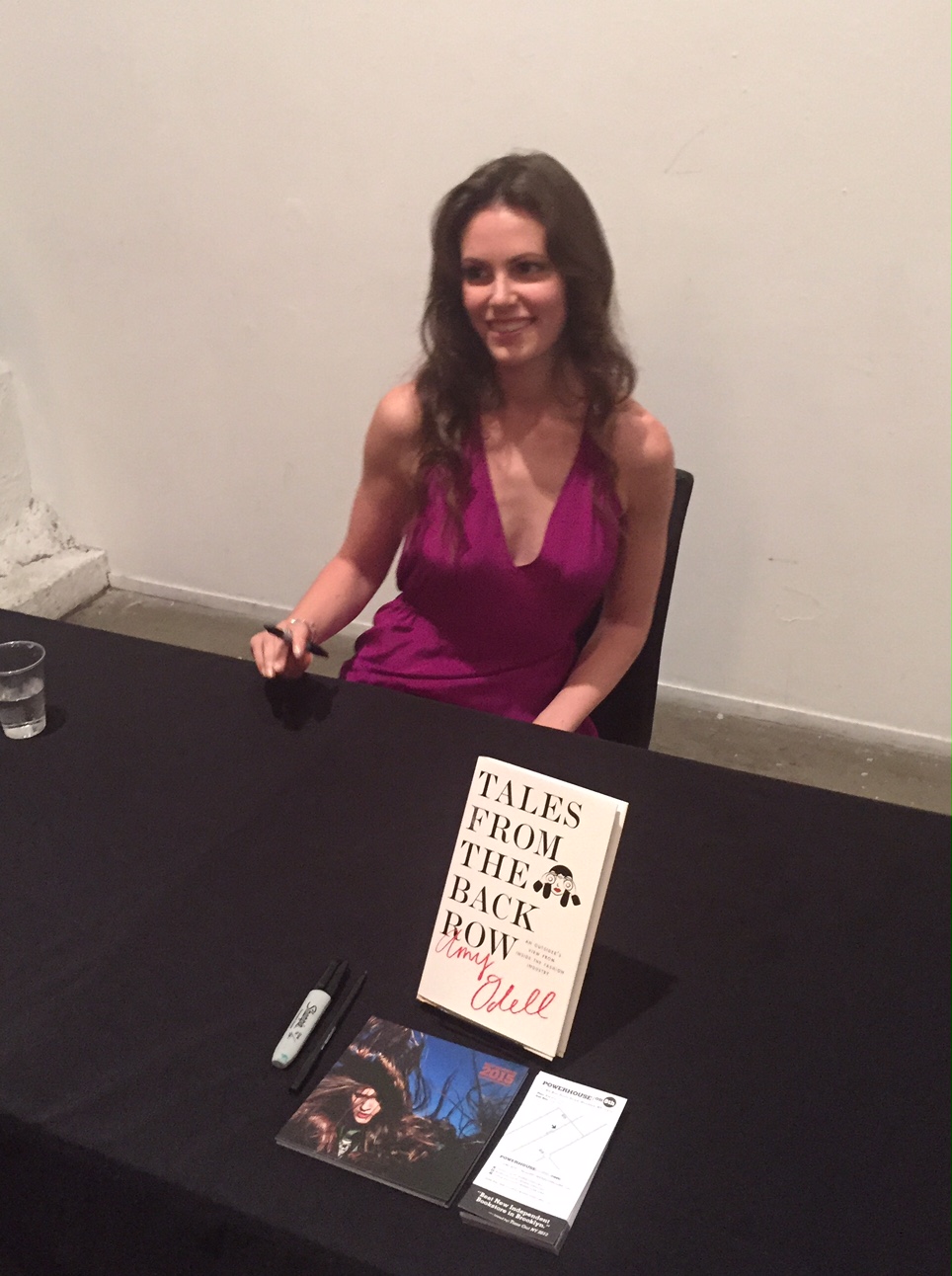 The next night I returned to Powerhouse for the book launch of Amy Odell's TALES FROM THE BACK ROW, a collection of personal essays about working in the fashion industry. Amy is currently the editor for Cosmpolitan.com, but she previously launched New York magazine's fashion blog, The Cut. She was joined by Refinery29 editor-in-chief Christene Barberich --- both, it should go without saying, were dressed to the nines.
Although Amy did not read from her book, Christene had clearly read and loved TALES FROM THE BACK ROW and quickly filled the audience in. Both Christene and Amy stressed the difference between people who love buying clothes, stylish people, and people who love Fashion --- note the capital "F." Amy humorously noted that she herself does not love Fashion, and often watches runway shows with the same curious expression as many clothes-wearing people. Her job as a fashion editor is about looking at clothes and having a vision, whether or not it aligns with her personal taste.
As leaders in the media, Amy and Christene were careful to discuss the negative repercussions of the media, including its effects on women's self esteem. Amy explained that when she covers fashion week and sees models on runways and cover shoots, she does not see the image, but rather the work of dozens of people, from stylists to makeup artists and even airbrushers. "It's all a facade," she explained, and no one should feel obligated to mimic it.
Cosmopolitan.com has grown to reach 37 million viewers since Amy joined the editorial team. When asked how this differed from her time at The Cut, Amy explained that when she was working at The Cut, her team would post about anything and everything fashion-related, whether or not anyone cared. Now, as a member of Cosmopolitan, her job is much more service-oriented and she tries to respond to trends in feedback.
At the end of the day, however, Amy's book is not about Fashion, but how to feel confident enough to enter the industry, no matter how silly you may feel about it. Whether you are interviewing celebrities or running a personal blog, Amy stressed the importance of finding an original angle and always taking note of feedback. If you make a few steps in one direction and find out it is not right for you, it is okay, she explained, to take a step back and learn.
Although Salman Rushdie and Amy Odell write from very different worlds, both provided an inspiring message about identity, censorship and the power of learning from every experience and story.