The Miami Book Fair --- which boasts more than 450 authors and 250 publishers in attendance --- is the biggest literary party of November. This year, the eight-day event kicked off on the 15th, and went strong all week and through the weekend. Our intrepid reporter Cristina Vazquez was kind enough to share her thoughts on 2015's Fair, including her favorite panels, some surprising things she learned, and what she's most looking forward to reading.
(Photos, from top to bottom: Cristina with Andrew Solomon, Edwidge Danticat, Sonia Manzano and Joyce Carol Oates)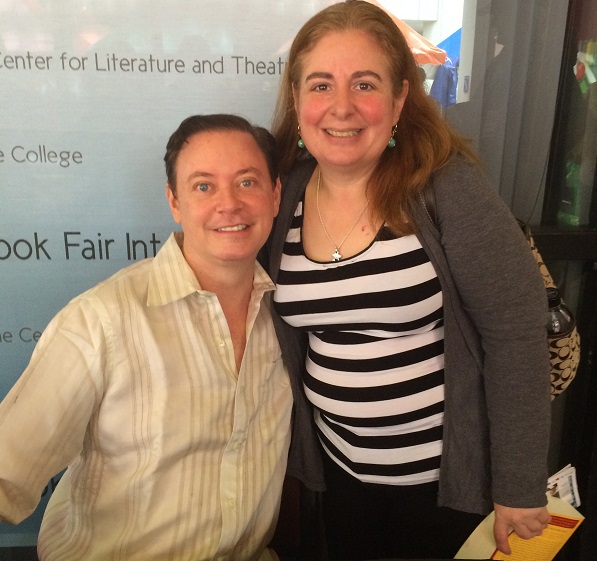 The Book Report Network: Who did you attend the Fair with?
Cristina Vazquez: I attended the Miami Book Fair on Saturday and Sunday. On Saturday, I attended with my mentor and friend, Eduardo Carballo, and on Sunday, I went alone. I usually go with my good friend Patty Gans, but she was not able to go this year. It's funny to say "alone" because I bumped into old friends and co-workers, as well as students at autograph signings, author events, etc. What I love about the Fair is that no matter where you go, booklovers are one of a kind, and people who you may not even know start talking and asking questions when you are waiting for an author event to start. At the Fair I feel like I am part of a really big book club!
TBRN: What panels did you attend?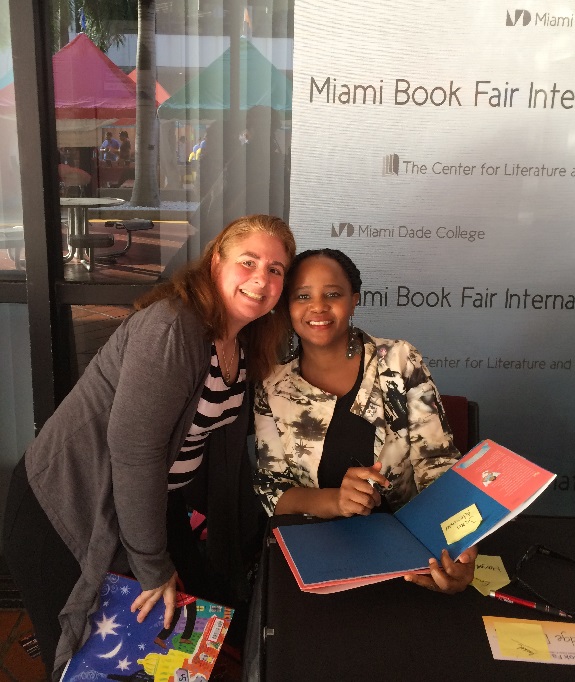 CV: On Saturday, I attended an event of three workshops for Spanish teachers. This event is becoming an annual tradition organized by the Cuatro Gatos Foundation, an entity dedicated to promoting children's authors and books. On Sunday, I attended Andrew Solomon and Scott Stossel's event. After, I went to Joyce Carol Oates. Stopped by Jim Shepard, Karen Bender and Jonathon Galassi's event, too, while making time to also go see Sonia Manzano and Edwidge Danticat.
TBRN: Which was your favorite?
CV: My favorite event was Andrew Solomon's because I've struggled with depression most of my life and had read one of his books plus seen all his TED talks. It's hard to pick a favorite since each one was so different, but Solomon talked about and voiced what I have felt so many times in my life. He has really nailed what depression is like for the person who suffers from it.
TBRN: Were there any authors who surprised you or shared something unexpected?
CV: Joyce Carol Oates is very fond of chickens, hens and roosters. I left wanting to read one of her essays written from the perspective of a chicken! Also, she shared some of her favorite childhood stories --- ALICE IN WONDERLAND and THE SECRET GARDEN --- and how her grandmother was the one who gave her all the books she had and the excitement she felt when she got her first library card.
TBRN: Were there other panels that you wish you could have attended?
CV: Ahhhhh!!!! Oh, so many!!! That's always my problem, my challenge. All the ones I want to go to and the ones I can actually go to! I wanted to see: Richard Blanco, Mary Karr, Peggy Noonan, Ann Beattie, Sara Gruen and Ann Hood...but due to other events or my workshop, I was not able to go!!!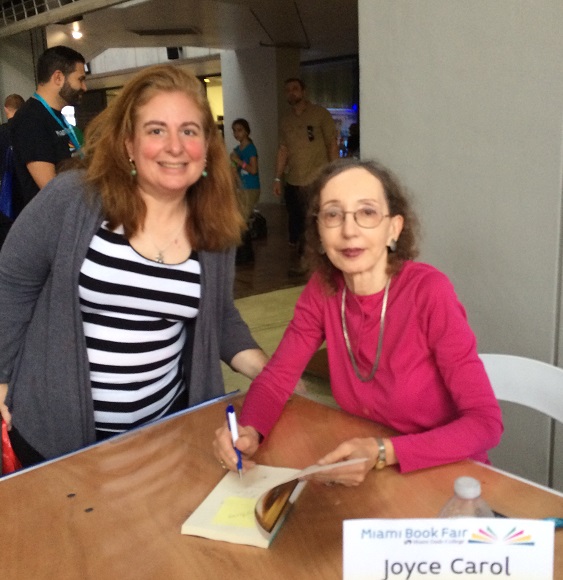 TBRN: Which books did you most look forward to reading after the Fair?
CV: THE LOST LANDSCAPE by Joyce Carol Oates, A HOUSE OF MY OWN: Stories from My Life by Sandra Cisneros, and Ann Hood's PROVIDENCE NOIR.
TBRN: What book would you encourage your friends to read after your hearing from the author?
CV: I am looking forward to recommending Joyce Carol Oates' memoir and Edwidge Danticat's UNTWINE.