Last Friday, The Book Report Network's Carol Fitzgerald, Nicole Sherman, former intern Erin Siu and I made our way to Random House's New York offices for their ninth Open House, a day when readers are invited to interact with both Random House staff and authors to go behind the scenes of their favorite new and forthcoming titles. Also with us were Bookreporter.com reviewers Vivian Payton and Matthew Burbridge and Carol's friend, Beverley. We're big fans of Open House here in the office and look forward to the fun, informative event every season.
This year, attendees were surprised with an early gift: an advanced copy of SMALL GREAT THINGS, the latest title from Jodi Picoult, which will hit shelves this October. Although I don't need any persuading to look forward to any of Random House's events, this treat --- which arrived just before the long Fourth of July weekend --- really had us amped. We were informed, in a lovely hand-written note from Kate Childs, Random House's Director of Special Events, that there would be a book club discussion for SMALL GREAT THINGS during the event.
Open House has really taken off recently, so I made sure to arrive right on time at 9 AM. After securing our seats, Viv, Matt and I made sure to browse the book room, where breakfast pastries and coffee were being served as attendees browsed the shelves and made early purchases. I was delighted to get my hands on a copy of THE WORLD OF DEBBIE MACOMBER, a coloring book based on Macomber's books, which I thought would make a fantastic gift for my grandmother, who loved A GIRL'S GUIDE TO MOVING ON, a featured title at the last Open House.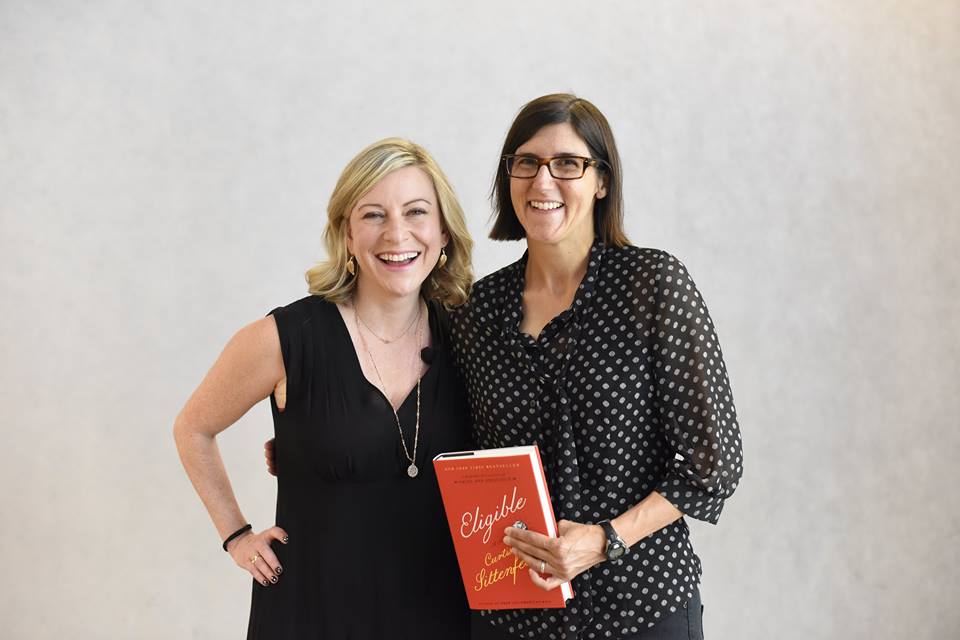 Soon it was time for the first panel to begin, so we all settled into our seats as Curtis Sittenfeld took to the stage with Cosmpolitan editor Laura Brounstein to discuss ELIGIBLE, her modern retelling of Jane Austen's PRIDE AND PREJUDICE. Although I've heard a great deal about this book, I had no idea that it was not initially Sittenfeld's intention to retell the classic, and that she had actually been approached by the Jane Austen project. Sittenfeld was hesitant, but, as a lover of Austen's works, she knew she had to give it a try. Still, she explained that she thought a great deal about structure, wanting ELIGIBLE to be its own book. As part of her writing process, she kept two copies of PRIDE AND PREJUDICE on her desk and took care to reproduce iconic scenes while still peppering in her own creativity in an effort to avoid writing "Jane Austen with iPhones." When it came time for the Q&A an audience member asked Sittenfeld how she felt about the Bennett sisters, and she thoughtfully explained that she had to stop thinking about which sister she liked and why and focus instead on why Austen made each choice about her characters' actions. In terms of summer reading, Sittenfeld recommends BREAK IN CASE OF EMERGENCY by Jessica Winter, MOVIE STAR BY LIZZIE PEPPER by Hilary Liftin and EUPHORIA by Lily King.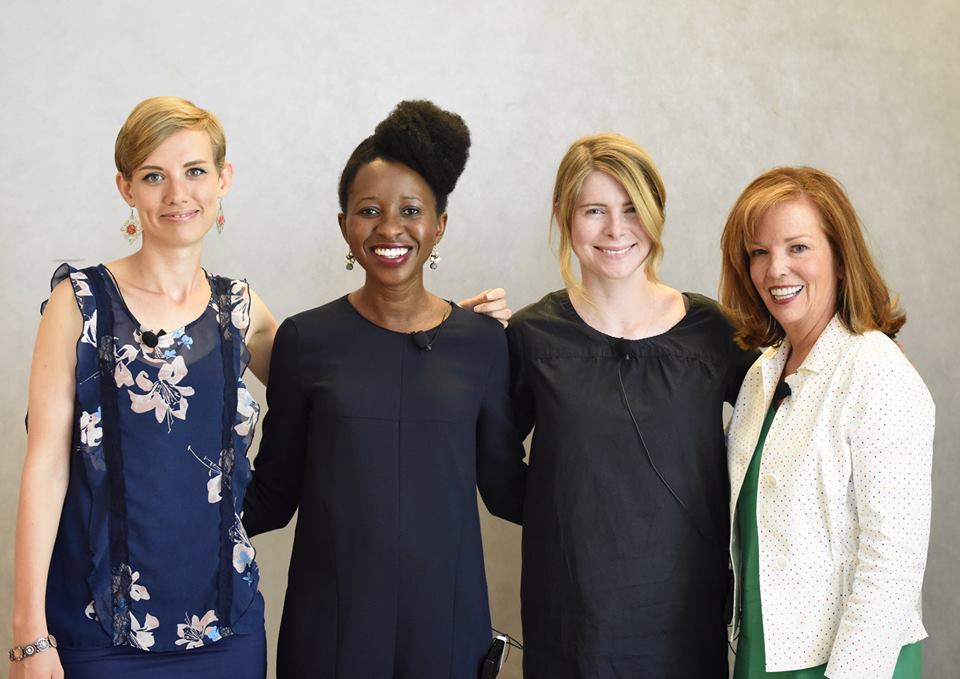 Up next were some of our office-favorite debut authors, Emma Cline (THE GIRLS), Imbolo Mbue (BEHOLD THE DREAMERS), Martha Hall Kelly (LILAC GIRLS) and Catherine Banner (THE HOUSE AT THE EDGE OF NIGHT). I was most excited for this panel, as Nicole and Carol have been raving about THE GIRLS for weeks and I actually reviewed LILAC GIRLS for Bookreporter when it first came out. The authors began by discussing how they got the ideas for their novels, with Emma Cline beginning by explaining how the Manson mythology is alive and well in her California hometown. Kelly described a visit to the house of Caroline Ferriday, the star of LILAC GIRLS, and how she learned about the Ravensbruck Rabbits, a Nazi experiment. For Mbue, inspiration came from seeing the vast differences between the Manhattan elite and their chauffeurs, particularly during and after the Recession. Catherine Banner, too, was inspired by the financial crisis and how it affected people living overseas.
As the authors discussed their writing habits and styles, it was truly fascinating to see how each woman's path to publication differed from those of her peers. Mbue's unrelenting determination in particular was really interesting --- she said that she basically stalked her agent until she finally had a deal. Carol Fitzgerald had an early look at BEHOLD THE DREAMERS and absolutely loved it (it will be a Bookreporter Bets On), so I'm definitely looking forward to this one. In terms of summer reading, each author recommended the books written by her fellow panelists, which was really sweet to see. After the panel I had the chance to meet all four authors and speak a bit more about their books. Martha Hall Kelly was kind enough to gift each of her fans with a map that details each of the NYC locations mentioned in LILAC GIRLS --- I heard many attendees planning their walking trips!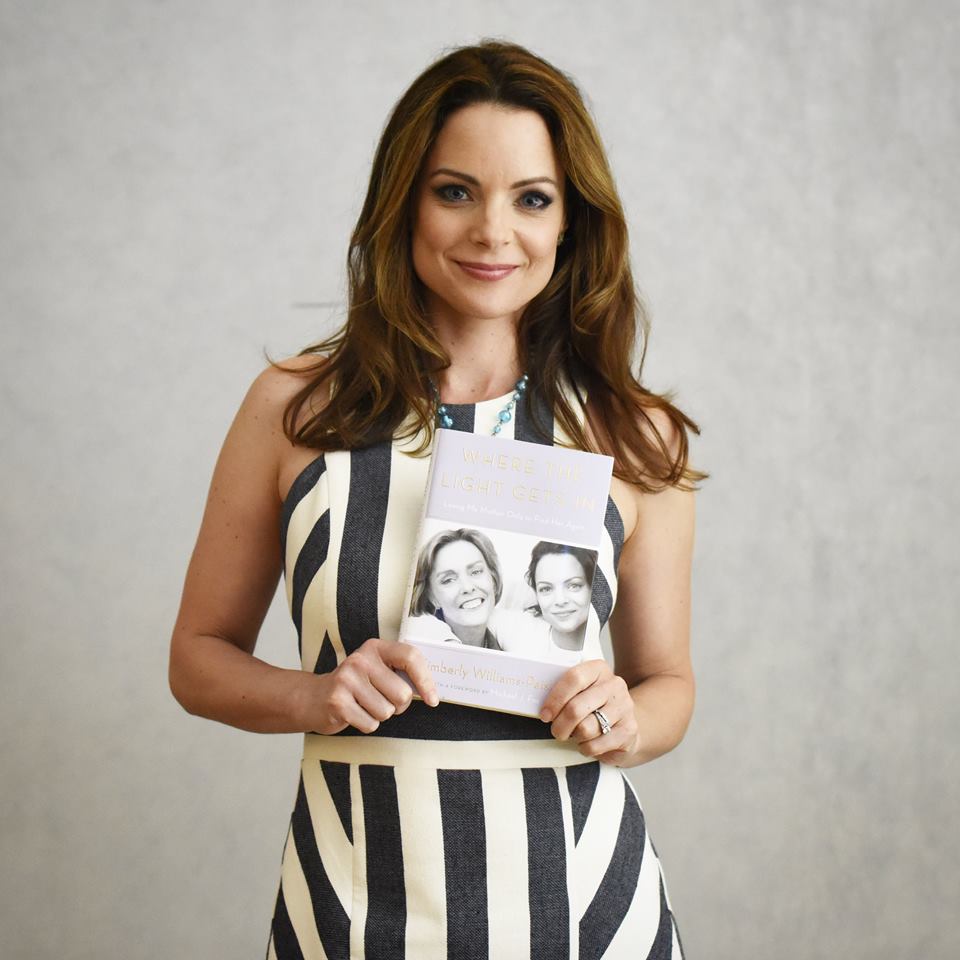 The book club discussion for SMALL GREAT THINGS took place during lunch. I hadn't yet finished the book, so I sat out, but Carol said "Readers were raving about it --- and talking about how much it moved them to think more about race and the differences between people in a new way. I loved being part of this conversation; many of those in this informal discussion have it slated to be discussed with their groups."
Following lunch, we returned to our seats to see Kimberly Williams-Paisley take the stage to discuss WHERE THE LIGHT GETS IN, her heartfelt tribute to her mother, who was diagnosed with early onset dementia in 2005. Her book chronicles her family's journey and mistakes, in an effort to help others struggling with similar family situations. Perhaps the most important piece of advice she had to share was to pay attention to the primary caregiver in addition to the sick relative. Taking care of a sick or ailing loved one takes a great toll on a person, and Williams-Paisley and her family all wish they had paid better attention to her father.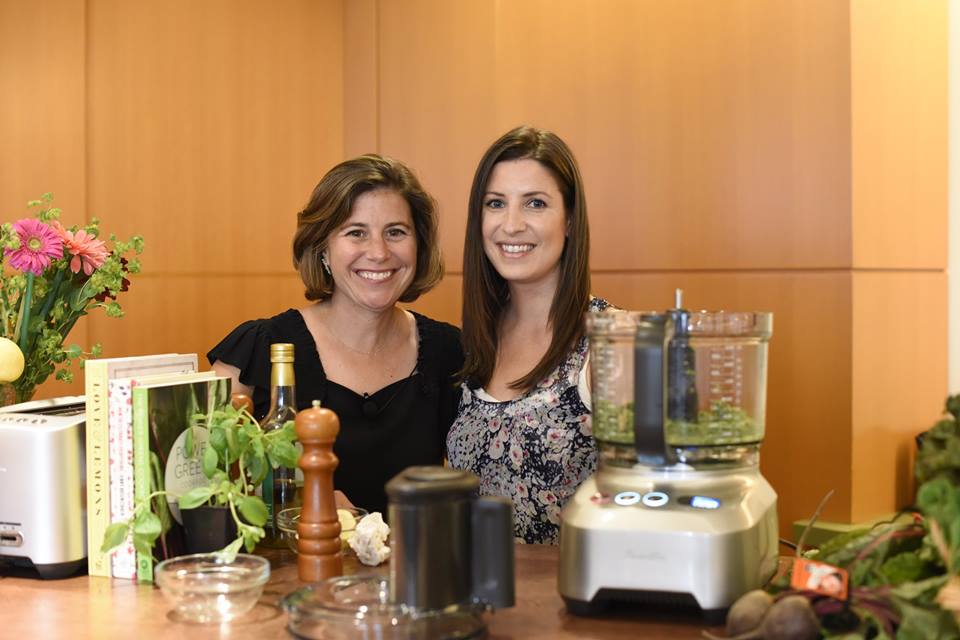 The afternoon took a fun twist as the next two panels featured food and lifestyle bloggers Dana Jacobi, Jenny Rosenstrach and Jeanine Donofrio. I can't admit to being much of a foodie, but it was fascinating to hear Jacobi discuss trends in greenery and offer advice on keeping it fresh. She advised that we all give parsely a fresh look, as it's chock full of nutrients. Rosenstrach and Donofrio spoke about entertaining with food and even gave a demonstration on making pesto --- don't worry, we were all offered samples during the break afterwards.
Bookreporter.com favorite Paula McLain closed out the day by discussing her long, difficult road to success. From her birth into foster care to numerous pitfalls and even a reunion with her mother, Paula never once held back when it came to sharing her story. I loved both THE PARIS WIFE and CIRCLING THE SUN, so as I listened to Paula it was easy to see how she'd injected her own struggles and experiences into her characters, making them all the more lifelike and relatable. I've seen McLain speak several times and I must say that this was one of her best presentations yet.
To round out the day all attendees were invited upstairs to enjoy wine and hors d'oeuvres --- and a spectacular view of New York City from Random House's 14th floor. I had a fabulous time discussing the day with my fellow readers and even had the chance to speak to Kate Childs about Random House's 10th event, which will take place in December. I won't spoil the details for anyone anxiously awaiting, but I think it's safe to say that we are in for another smashing success --- and it will be held in a new location, which will be able to accommodate more readers! .